Share buy-backs, new yachts and new relationships all part of 2019 strategy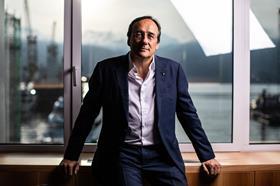 The pace of development at Italian superyacht-builder Sanlorenzo has been a challenge to keep up with over the past few years. From the group's latest news, it appears that the pace will not slow in 2019, as chairman and CEO Massimo Perotti highlights share buybacks, ongoing plans for new SL and Bluegame models, and new relationships with key industry people.
The share buybacks are significant in that Sanlorenzo is now a fully Italian-owned company. The biggest purchase, made late last year, was for the 23% stake held by the Chinese Sundiro Holding group. Perotti sold this stake to Sundiro in 2013 as part of a move to help address the challenge of the global financial crisis which hit the recreational marine industry hard.
Part of the deal involved an agreement to work with Sundiro in building boats under 20m (66ft) in China, but not under the SL brand. This initiative did see a single Sundiro 70 built in Italy as an initial step, but the decline in the China boating industry meant this plan was never implemented. Sundiro, however, is acquiring a majority stake in Simpson Marine, Sanlorenzo's dealer in Asia.
Assistance in this stake repurchase was provided to Sanlorenzo SpA by Studio Musumeci, Altara, Desana and Associates for legal aspects and by RSM Studio Palea Lauri Gerla.
Another share repurchase made by Perotti earlier last year involved the 16% stake in SL sold to Fondo Italiano di Investimento in 2010. With the two share repurchases the current SL ownership is now split with 96% controlled by Perotti through the Happy Life Holding company (which also includes children Cecilia and Cesare Perotti). Management holds the remaining 4%.
The repurchases reflect the growing corporate and financial strength that Sanlorenzo has displayed over recent years with both its Yacht and Superyacht Divisions expanding their model ranges and sizes. The company also acquired the Bluegame 'sport utility yacht' business last year, which positions it in the smaller boat market. More Bluegame models and facilities are planned.
Significantly, Sanlorenzo has also been very open about its consistently improving financial position. Perotti comments: "The numbers reported demonstrate it fully: revenue has grown from €300m in 2017 to €380m in 2018, and for 2019 we are forecasting additional growth of 20% (taking the turnover to over €450m)."
"Furthermore," he continued, "we have an order backlog of €500m for 2019 and 2020. However, we are not stopping here, and we expect to invest €100m by 2020, of which 52% will be in new facilities to increase our production capacity, 42% in new products expanding our product offering with new models able to satisfy the growing demand of the international market, and 6% in R&D."
Along with these significant investments, the company has also started a significant initiative focused on youth: the "Sanlorenzo Academy".
Born from one of Perotti's ideas, the Academy is focused on developing specialised professionals who are currently lacking and in high demand in the job market, providing training opportunities to youth with an emphasis on hiring. This initiative will create a significant virtuous circle between industry, training, and the world of work, investing in new generations and creating jobs.
As further confirmation of the results achieved, Sanlorenzo says it is first among the world's leading producers of boats over 30m (98.5ft) in length with 39 boats delivered in 2016-18, asreported last month by the Dutch Superyacht Times magazine. The analysis compares the data from the last three years with pre-crisis results, showing how Sanlorenzo has tripled its own production over the years, outpacing even the biggest boatbuilding groups.
As a leader at the forefront of the nautical world, this year Sanlorenzo also moved onto the podium of the annual Global Order Book, compiled by UK boating magazine Boat International, once again confirming itself among the main three shipyards in the world for the production of yachts and superyachts and first as a single brand.
In another move, Perotti says he plans to work with Carla Demaria, who is a long-standing friend and former colleague. This follows the removal, late last year, of Demaria's role with Monte Carlo Yachts, a division of Groupe Beneteau. Exactly what her role will be has not yet been identified. With Boot Düsseldorf about to start, it may be a case of 'watch this space'.