Galeon MD told IBI that production is sold out mostly to 2020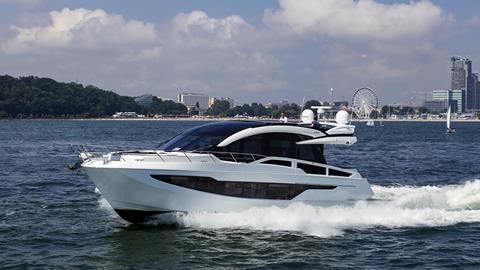 Galeon, a prominent exhibitor at the recent Wind & Water boat show in Poland, is reporting strong exports. The news comes not long after Galeon picked up a 2018 IBI-METSTRADE Boat Builder Award in the Innovative Onboard Design Solution category for its 640 Fly and 650 Skydeck models.
Speaking to IBI at last week's show, managing director Grzegorz Tuszynski said that Galeon manufactured 150 boats in 2018 and hopes to step this up to early 170 this year.
The Wind & Water show coincided with a tour organised for journalists by the Polish Investment and Trade agency in Poland and Polboat, the Polish marine industry trade association.
"Our size range varies from 30ft-80ft and there are increasing orders for our larger boats with our core production in the size range of 40ft-70ft," Tuszynski told IBI. "One of the most difficult things in the boating business is matching production to sales. In this respect, the ability to forecast future market requirements by reading the market trends is vital. For Geleon, we plan for each model to have a lifespan of five years to ensure we can recover the investment in each model."
Tuszynski mentioned the company's investment in manufacturing, including resin infusion for manufacturing mouldings and Computer Aided Design (CAD) and Computer Aided Manufacturing (CAM) with the latest Mitsubishi laser cutting machine for stainless steel and composites.
"Our investment in CAD and CAM machines, buildings and staff over the past two years has been €10m," Tuszynski explained. "This investment gives us a key unique selling point in that we can offer all of our designs in semi-custom form. Using our standard hull and superstructure designs we can provide different interior layouts provided we don't compromise the key structure and bulkheads positions."
Regarding orders and export markets, Tuszynski outlined: "Our production is sold out mostly to 2020. The key export market remains the USA through our dealer MarineMax, which is taking some 50% of our production – around 50 to 70 boats per year.
"We are also investing in the Australian market where we have a new dealer. We had a good Gold Coast boat show in May and are exhibiting at the Sydney Boat Show in August. In Asia, we have done good business in Vietnam where we have sold six new boats in Ho Chi Minh City in the last three years. Future developments include plans for a 30m model now that we have a waterside shipyard."
Established in 1982, Galeon is one of Poland's oldest boatbuilders. The company employs 1,200 people at two factory sites and remains privately owned.