€20m to be invested in facility for yachts up to 120m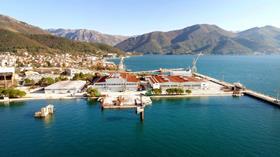 In a 50:50 joint venture between the Damen Shipyards Group and Porto Montenegro (PM), some €20m will be invested in developing a superyacht refit and maintenance facility at Bijela able to handle vessels up to 120m (394ft).
Since 2012, the Montenegrin government has been cooperating with the joint venture on this project. Damen is the parent of Amels, a leading superyacht builder.
The Bijela site is a former commercial shipyard which over recent years was experiencing a decreasing workload and the prospect of establishing a superyacht facility located just across Boka Bay from Porto Montenegro. The Bijela yard needs a total remediation which the Montenegrin government will undertake and fund with completion set for early 2020.
The joint venture has been awarded to the yard on a 30-year concession. As this progresses, the joint venture hopes to commence superyacht repair services from winter 2019-20 onwards. A Porto Montenegro spokesman told IBI: "We will be exploring whether some small-scale service work can be conducted on yachts afloat in the Western basin."
The yard will have a capacity for superyachts up to 120m with a modular drydock being used for haul-outs. A travel lift of unspecified size might also be acquired.
The recent completion of technical surveys and the placing of a contract by the government and the World Bank for the remediation of the site paved the way for the signing of the Concession Agreement for the yard on November 20. Following completion of the remediation works in early 2020, it will be transformed by the consortium over the following 12 months into a superyacht repair and refit facility.
This initiative has been challenging, but the resulting benefits to the economy of Montenegro are potentially significant with over 300 people eventually expected to return to the marine industry. The planning of recruitment and training using the successful apprenticeship programme that Damen operates throughout its global shipyards network is already underway. So too are plans for the production of new, state-of-the-art lifting and repair equipment to be brought to the facility following completion of remediation works.
Rene Berkvens, Damen's CEO, commented: "We are happy that today marks the beginning of a new lease of life for the shipyard in Bijela. Together with our partners we take a long-term view on making yacht maintenance and refit in Montenegro a success. A strong customer base at Porto Montenegro and yacht maintenance and refit skills within the Damen Group will contribute to the success of this venture."
He added: "Considering the yard's current condition, we face a challenging period. However, with the continuous full support of the Montenegrin government, and in close cooperation with our strong partner and the local community, we aim to restore the yard's health, increase employment, and pursue fitting commercial opportunities both locally and internationally that will contribute to rebuilding activity levels."
Adriatic Marinas' managing director, David Margason, stated: "The teams at Adriatic Marinas and Damen have been working for a very long time with the government of Montenegro to realise this challenging and exciting project. We are delighted that this next major step has been achieved and believe that this initiative is an ideal example of how Montenegro's fast-growing tourism and marine leisure industry can convert back into the generation of jobs in associated creative and production industries to offer a comprehensive, integrated and sustainable range of employment opportunities to future generations in the country."