Quebec aluminium and pontoon boat builder cited for ongoing efforts to recruit youth
Princeville, Quebec-based pontoon and aluminium fishing boat builder Princecraft Boats was presented with the Boating Industry Canada Employer of Choice Award on Friday, as the Toronto International Boat Show kicked off in Toronto.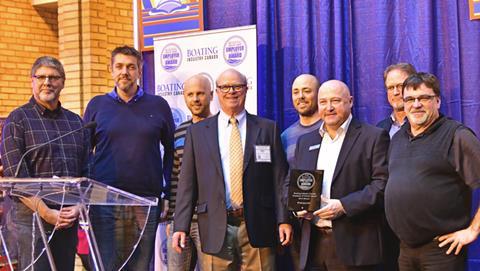 This award recognises companies in the Canadian recreational boating industry that have proven uniquely successful in attracting and retaining talent in an extremely competitive employment environment already challenged by intense competition from the automotive and RV sectors.
"The seasonal nature of the industry, combined with the often remote work locations make it difficult for companies in the recreational boating sector to hire and retain key staff," said presenter Andy Adams, in naming Princecraft as the 2018 manufacturer winner. "Princecraft has successfully positioned itself as a leading employer that offers sustainable, long-term opportunities, particularly for young people entering the industry."
Boat dealerships Desmasdon's Boatworks, Pride Marine Group and M&P Marine Sales were also recognised with Employer of Choice awards.