UK yacht-builder launches a record nine boats in 2019, recruits 42 new apprentices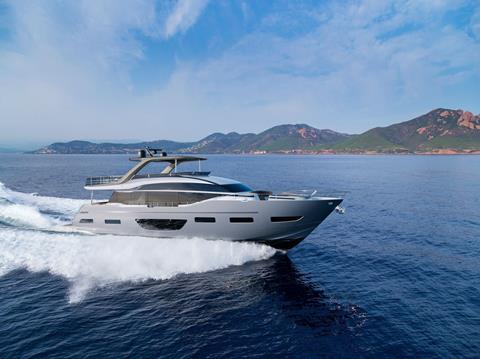 The UK's Princess Yachts is to launch a record five new yachts at the Southampton and Cannes boat shows later this month, making 2019 its busiest year ever.
Princess is also celebrating a second successive year of record employment, sales and profit in 2018. With a further four luxury yachts revealed or announced this year, 2019 will be another memorable year. Never before has the Plymouth-based boatbuilder launched nine yachts in one calendar year.
"We are immensely proud to be putting five stunning new yachts onto the water this autumn," says Princess executive chairman, Antony Sheriff. "Each boat has unique qualities yet together they represent our core values of great design, superb craftsmanship and a focus on enjoying life at sea.
"Presenting a record number of yachts at Southampton and Cannes underlines our investment in the UK. This commitment to the UK is only possible thanks to a meticulous overhaul of the business in recent years and the introduction of new technologies and design. Without the full support of everyone at Princess – from generations of families that have been with us for decades through to our latest new recruit apprentices – we couldn't have achieved this success in such a short period."
The number of yachts launched underlines the impact of a £100m five-year investment programme that began in 2016 and resulted in the introduction of new processes, technologies and business strategies.
Princess posted record financial results in 2018 for the second year in succession, making it the most successful year in its 54-year history. The company also reached record levels of employment, with over 3,000 people producing yachts across its five Plymouth boatyards, a 50% increase since 2016, making Princess one of the UK's largest specialist manufacturers with a bigger team than the likes of Aston Martin, Lotus Cars and McLaren Automotive, the company claims.
Supporting this growth, Princess has increased investment in its apprenticeship programme in 2019 with a record 42 new apprentices – double the traditional intake. Apprentices now make up 4% of the workforce with a 100% retention rate in recent years following qualification.
Princess says it is enhancing its boats with new technologies that will further define its "industry-leading position" in regard to innovation in sea keeping, hull design, interior architecture and use of space. The Y72, due to be revealed in 2020, has been confirmed as the second yacht, after the R35, to feature Princess's active ride control technology inspired by supercars and America's Cup racing, whilst the V55 debuting at Southampton features an all-new hull design.
Making its debut at this year's Southampton International Boat Show will be the F50 flybridge, the S62 and S66 sportbridges, the V55 and the Y78 motoryacht. The F50 and S66 will receive a simultaneous debut at the Cannes Yachting Festival.
The five new additions join the yachts already announced in 2019 – the F45 flybridge, the V78, the flagship Y85 and the X95 superfly.