Ex-Maritimo executive in new dealer venture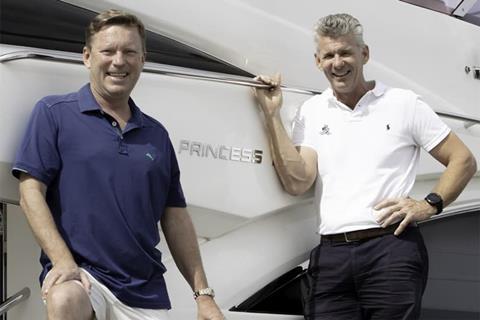 Princess Yachts announced at the Sanctuary Cove International Boat Show (SCIBS) that it has set up a new venture to handle its distribution in Australia. Princess has joined forces with Greg Haines, who has worked with Maritimo for a number of years.
Haines became the official distributor for Princess Yachts in Australia at the beginning of April 2019. He brings a wealth of maritime experience to the partnership and has worked with yacht builders both locally in Australia and internationally, whilst still having an active interest in the family business.
The Haines Group builds Signature, Seafarer and Tournament trailer boats and they are also the Australian distributor for Suzuki outboards.
The new company, headed by Haines, will trade as Princess Yachts Australia and will initially be based on Queensland's Gold Coast, with the intention to expand to other key locations across Australia in the near future.
Joining Haines will be another well-known figure in Queensland's boating scene, Scott Davis, who has been involved in the marine industry all his working life. He has also worked with the Princess brand for over 12 years with both Princess Yachts in Plymouth and more recently through his own brokerage business. He has a strong relationship with many existing Princess customers and owners and is also a Princess owner himself.
"We are honoured to join the Princess family and represent this industry leading brand in Australia," Haines commented. "Over the next 12 months, we have an exciting calendar of events scheduled and look forward to engaging with existing and prospective Princess clients."
Kiran Haslam, marketing director for Princess Yachts Ltd, adds: "With 3,200 employees, and a philosophy of in-house design and manufacturing, Princess is a leading luxury brand in leisure motoryachts that continues on its 54 year-long mission to build yachts to universal acclaim.
"That philosophy resonates deeply with the real boating market that exists in the Southern Hemisphere, and we intend to re-ignite our success in Australia with this new distributor appointment and are very pleased that Greg and his team will be taking Princess to the next level."
The Princess yachts on show at SCIBS 2019 include the Asia-Pacific premiere of the all-new V65.
"The Australian market is important to us and this change in our distribution relationship is a significant step," Princess executive chairman Antony Sheriff told IBI at the show. "Princess will shortly be announcing its latest figures and while I cannot give any numbers they will include record revenues and record profits."