The 56ft Bebe Grande was once billed as the biggest fibreglass hull in the world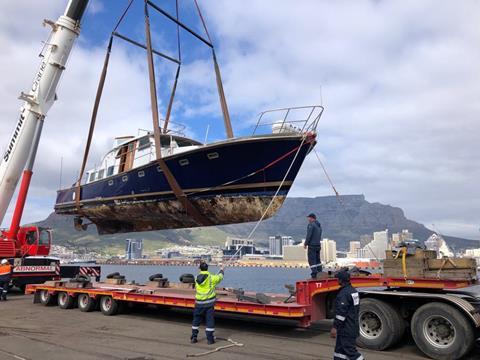 A British motoryacht considered to be the first major yacht construction of superyacht specialists BCTQ is about to be restored in South Africa.
At the time of construction by Halmatic in 1955, the 56ft Bebe Grande was billed as the biggest fibreglass hull in the world. She was built for a South African racehorse owner who named her after one of his winning steeds.
The vessel subsequently become an eye-catching feature of Cape Town's offshore fishing community, but recently fell into repair and has been languishing in a Cape Town marina. Several months ago she was spotted by local businessman Brian Blackbeard who manages the YachtPort SA marina and boat yard in Saldanha about 60km north of Cape Town. He approached the owner with a restoration deal, which is now in motion.
"The build history [of Bebe Grande] reflects upon the best of British shipbuilding technology and craftsmanship that represented their leading capabilities in small craft construction in the world at that time," Blackbeard said in his project proposal. "Bebe Grande owes its existence today in 2019 to the fact that it was professionally designed, built and outfitted to the highest maritime standards of the day. The quality of materials used and equipment installed have served well over the last 60 years and given reason to consider the restoration of this yacht.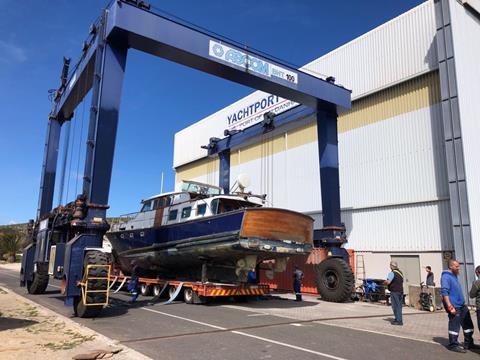 "The yacht was designed by Burness Corlett and Partners in early 1950," Blackbeard said. "Burness Corlett and Partners went on to become the world-leading ship design house and naval architectural company, Burness Corlett Three Quays, that is still in practice today and producing many successful and revolutionary ship and boat designs. Since Dr Corlett's ground-breaking hull design of MY Bebe Grande in the 1950s, his yacht design legacy has developed into the design of some of the world's most iconic superyachts such as the MY A," he said.
The boat had deteriorated to the point where it needed to be 'nudged' into Cape Town harbour and then trucked to the Yachtport facility in Saldanha.
It is the second British-built yacht to make headlines in South Africa in recent months after the 'rediscovery' of a 106-year-old Camper & Nicholson 38 Yawl, built in Portsmouth in 1913 and dubbed Brat. This too is due to be restored to her former glory.