A dedicated superyacht mooring buoy will be installed at Kangaroo Point for 12 months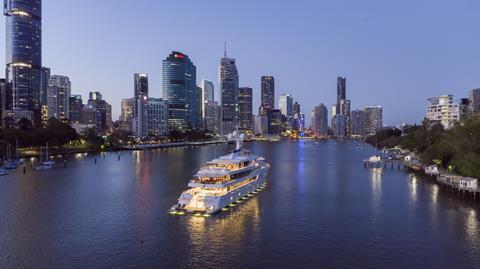 Rivergate Marina & Shipyard in Queensland, Australia says it welcomes the state government's recent decision to commence a 12-month trial to attract superyachts to Brisbane, predicting "a billion-dollar coup for the city's economy".
The trial, which is expected to begin mid-year, will see a dedicated superyacht mooring buoy below the Kangaroo Point Cliffs.
"We want to maximise the jobs and business that superyachts bring with them," says Minister for State Development Cameron Dick. "Superyachts are expected to contribute more than $1.1bn to gross state product and support nearly 8,000 jobs by 2021 in South East Queensland alone.
"We want to attract more superyachts to Queensland and Brisbane, and we want them to stay longer and spend more while they are here."
In 2019, Rivergate welcomed the 74m (243ft) Lürssen-built MY Aurora and the 65m (214ft) Feadship MY Callisto for maintenance and repairs.
In cooperation with the captain of Aurora and authorities, Rivergate devised the concept and logistics for the first mooring in the city reach of the Brisbane River. The 74m Aurora was the largest superyacht to make its way under the Story Bridge to moor in the inner city.