Hallberg-Rassy shipyard owners donate 50ft vessel to the Swedish Sea Rescue Society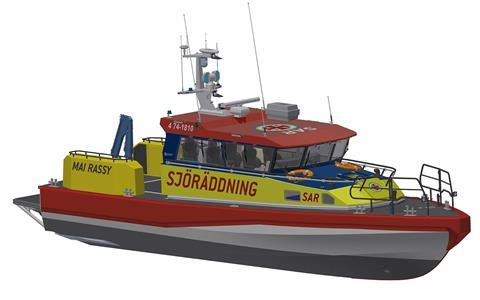 The Rassy family, owner of sailing yacht producer Hallberg-Rassy in Sweden, has donated a newly developed rescue boat to the Swedish Sea Rescue Society (SSRS). The 50ft vessel was delivered in July and is said to be the first of its kind.
The SSRS is an independent organisation that relies on donations from members. It has a modern fleet of rescue boats of all sizes, covering the Swedish coast from the border with Norway up to the Baltic Sea.
A completely new design, the boat was developed especially for sea rescue. It has the capacity to take 150 people in a mass evacuation. There is room for up to five stretchers with patients and there is a capacity to drain pump 1,000 litres per minute with several carriers.
The boat is also equipped with a fire gun to pump and provide water at 1,500 litres per minute and there is room for a Rescue runner (a customised Waverunner) on the transom with a crane to pick it up and secure people from breakdowns in tough conditions.
"With the donation we received, we have been able to produce the 2020 rescue boat, which feels very good," says Cia Sjöstedt, CEO of the Swedish Sea Rescue Society. "We hope to be able to build many boats in this class, as it gives our volunteer seafarers a fantastic tool to be able to carry out their assignment."
As well as donating the boat, the Rassy family also covered the development costs for the new class of rescue ship. The boat is called Mai Rassy and the class name is Hallberg-Rassy.
Mai Rassy is 15.3m x 3.9m with a 1m draught. It is built in composite and displaces 15 tonnes. The yacht is equipped with two 650hp Scania diesels and two MJP X350 waterjets for speeds of up to 34kt.
Mai Rassy was designed by Profjord AB, Swede Ship and the Swedish Sea Rescue Society and built by Swede Ship Marine in Sweden.