Boatbuilder welcomes 80 budding boatbuilders to its annual training program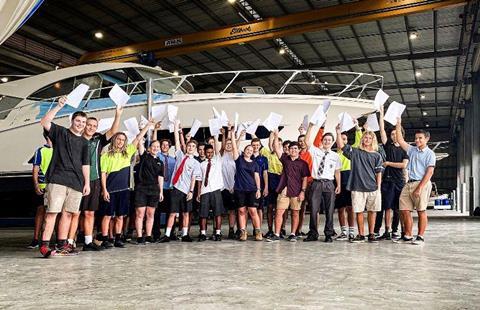 Australian motoryacht builder Riviera has welcomed a total of 80 new apprentices to its apprenticeship program for the 2020 season – the largest intake since the program's launch in 1992.
The successful apprenticeship scheme, which operates out of the company's 35-acre manufacturing facility in Coomera, about 37 miles south of Brisbane, will see the apprentices mentored directly by the company's 600-plus employees in a number of disciplines, including boatbuilding, engineering, electrical, cabinet making, timber and composite machinists, upholstery, and composites.
Apprentices are rotated through all areas of the business relevant to their trade to ensure trade qualifications are fully met.
"Our philosophy is that to build world class luxury motoryachts, we need to create world class craftsmen and women," says Riviera owner, Rodney Longhurst. "The success of our apprenticeship program over the past 24 years, and our excellent retention rates, affirm Riviera as an employer of choice on both the local and global stage. More than 90% of our apprentices in the past four years have continued their careers at Riviera, helping to meet the growing demand for our luxury motoryachts."