Dutch equipment maker speaks to IBI in Monaco
Rondal says its three-year transformation into a high-tech maker of towering composite rigs, deck gear and winches for high-end sail and motor yachts is taking it to new, unexpected markets.
The sister company of super sailing yacht maker Royal Huisman of the Netherlands, Rondal says in the last two years it has sold 50 electric, composite captive winches – high load, button-controlled drums tucked away below deck.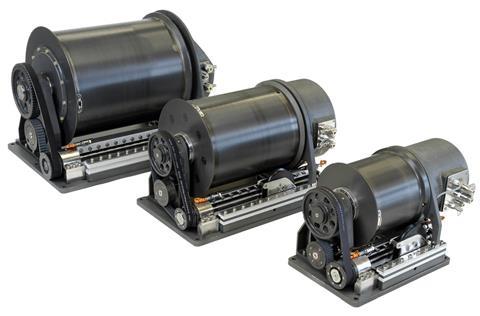 "Of these, already nine have been installed on recently built motoryachts," Rondal commercial manager Bas Peute told IBI at the Monaco Yacht Show. "This is more business than we had expected."
On sailing yachts, captive winches are used to reel in vast amounts of sail, which requires much power. For motoryachts, Peute says, Rondal makes winches that can be used to lift anything with loads of up to 8, 12, 18 or 24 tonnes. One has been used to handle a Feadship tender.
Peute says other emerging markets for Rondal are the manufacture of composite superstructures of large sailing yachts and composite radar masts of up to 9m tall. He adds: "If you can make carbon masts of 72m and higher and carbon hatches than you have the know-how to make radar masts."
Rondal is now making a superstructure for a 60m sailing yacht.
Until a few years back, Rondal's production halls were abuzz with the sound of workers crafting aluminium hatches, doorways, masts and other gear. But the company has gone composite with a vengeance. It 'bakes' all-carbon rigs of 70m and taller and a vast range of out-of-autoclave cured composite products – from carbon anchor whips to bowsprits to window frames.