The SD96 and SL96Asymmetric were given a preview at Milan Triennale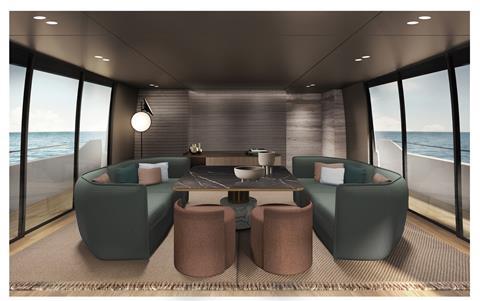 Italian superyacht builder Sanlorenzo unveiled the new SD96 and SL96Asymmetric during a press conference at the Milan Triennale on Monday.
The SD96 is Sanlorenzo's first-ever yacht to be designed by Patricia Urquiola, a Milan-based Spanish architect and designer.
At 28m, the entry-level model will replace the SD92, which was launched in 2007 with 27 units sold.
"I chose Patricia because I wanted to add a more feminine touch to the interiors in Sanlorenzo yachts, something which until now had been foreign to the nautical world. And today she is the most sought-after woman in global design, thanks to her ability to combine beauty and comfort. All done with a touch of irony and almost poetic sensitivity, with love for all that is global and a great respect for the hard work of the artisans," says Sanlorenzo chairman Massimo Perotti.
Like all models in the Sanlorenzo displacement SD line, the SD96 is built on three bridges, but thanks to the carefully studied proportions and the great balance achieved between design and volume, it is not only exceptionally elegant, but also exactly as light and manageable as a two-deck yacht.
The Sanlorenzo SD96 will debut at the 2019 Cannes Yachting Festival in September.
Sanlorenzo also unveiled a bold new project – the 29m SL96Asymmetric – which will make its debut next year at the 2020 Düsseldorf Boat Show in January.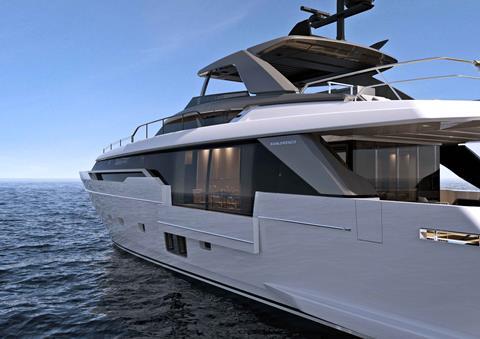 The SL96Asymmetric rethinks the canonical layout of a yacht, retaining only the side decks on the starboard side and eliminating the left one, which is carried on the roof of the superstructure, allowing 10sq m of surface space to be recovered to the benefit of the interior, through this asymmetric configuration. Something which has never been tried before, says Sanlorenzo.
Compared to a traditional layout, the SL96 offers more space, brightness, relaxation and better flexibility of use.
The concept of asymmetry is the result of a coming together of different minds – from an original idea by car designer Chris Bangle, to the yard's internal technicians and designers, to Bernardo Zuccon, the young architect who, together with Zuccon International Project, is signing many projects with Sanlorenzo.
The interior design was undertaken by architect Laura Sessa, chosen for her ability to translate Sanlorenzo's "made-to-measure" philosophy into the project, via her personal touch.
In the interior design a great sense of union and coherence emerges thanks to the choice of materials and finishes that is uniform and evident in all areas. The colors chosen are those of the Mediterranean, a distinctive sign of Laura's projects. The simplicity of the internal panels also allows customers greater flexibility, as they can choose from a vast range of materials.