CEO Massimo Perotti to use 35% of his stake for the listing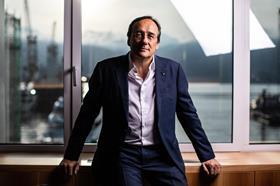 Sanlorenzo SpA, the world's third-largest superyacht builder, is to be listed on the Milan Stock Exchange. Massimo Perotti, Sanlorenzo chairman and majority shareholder, is using 35% of his stake for the listing.
The Sanlorenzo listing is being arranged through advisors Lazard and Alantra; bankers Unicredit, Intesa, and Merrill Lynch; and legal support from the Musumeci-Altara-Desana studios of Turin and White & Case of London.
Sanlorenzo returned to being a fully-owned Italian company earlier this year after Perotti bought back stakes previously owned by Italian and Chinese companies. He will retain the majority shareholding of the group through the 60% stake that is held by Happy Life, the holding company which he shares with his two children, Cecilia and Cesare. The remaining 5% is held by the management.
Perotti told La Stampa newspaper: "Sanlorenzo arrives on the stock exchange in order to be able to grow again". Over the past few years Sanlorenzo has been on an almost non-stop expansion path and this continues through the group's increasingly strong financial position which anticipates 2019 turnover to reach €460m.
In terms of that financial performance, Perotti told La Stampa: "I closed the 2018 financial year with a turnover of €383m, compared with €300m in 2017; an EBITDA of €37m and a gross profit of €18m. The negative financial exposure is -€20m. I also have an order portfolio of €505m, with only 6% represented by boats in stock at the dealers."
Sanlorenzo was founded in 1958 and was acquired by Perotti in 2005. Its rate of growth has moved up a gear almost every year, particularly over the past few years – not just financially, but in product development and yacht launches, expansion of build capacity space, the acquisition of the Blue Game brand, and the establishment of an Academy to educate both workers for its shipyards and crew for its yachts.
Today Sanlorenzo has production facilities in Ameglia, La Spezia, Massa and Viareggio. In the latter two locations, Sanlorenzo has acquired space from the FIPA Group through a joint venture between Perotti and FIPA called GP Yachts. The Sanlorenzo group employs some 450 direct employees and 1,200 from other contractors providing services in yacht-building operations.
In terms of why the listing and at this particular time, Perotti was quoted by La Stampa as saying: "If I look back, from 2005 to today, I see a cycle that has ended. When I took over the site, I found 75 employees, €42m in turnover and a Mediterranean market.
"Today we expect to close the 2019 turnover to €460m. I have 450 direct employees plus around 1,200 with the related businesses and a global market. Then, Sanlorenzo launched 5-6 boats a year; today there are 55, however a small number because exclusivity and uniqueness are conditions of luxury."
He continued: "So now a new cycle opens that must bring Sanlorenzo to grow again in the future. I prepared it from a financial point of view, acquiring the shares of the minority shareholder Fondo Italiano di Investimento at the end of 2017 and reacquiring those I had sold to the Chinese of Sundiro Holding last December.
"At the beginning of this year I strengthened the management, appointing Ferruccio Rossi as CEO of Sanlorenzo and taking on Carla Demaria (Turin, the outgoing president of Ucina-Confindustria Nautica, former top manager Bénéteau), to whom I entrusted the development of the Bluegame brand and new acquisitions.
"In other words," Perotti concluded, "the transition to the stock exchange is necessary to obtain the financial resources that will allow Sanlorenzo to navigate the new cycle. Listing is also a way to depersonalise the company from my name. I'm not leaving, mind you, but the listing allows the yard to become more autonomous, with the help of management: and for me this is another source of growth for a company. In this regard, the IPO is also an opportunity to attract and keep the best managers at home, who can rely on stock options."