110m Emerald Azzurra in build in Vietnam for 2021 delivery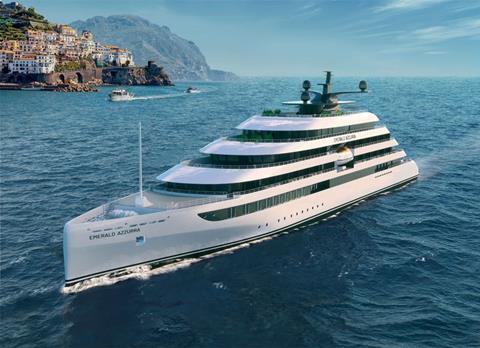 Scenic Group, the Australian cruise ship group, is expanding its portfolio of activities with the new Emerald Yacht Cruises venture. Set up as a division of Scenic's Emerald River Cruises arm, the new venture will start operations next year with the 110m (360ft), 100 guest-vessel, Emerald Azzurra, currently in build in Vietnam.
"Emerald Waterways has been operating award-winning river cruises since 2014," says Glen Moroney, owner and chairman of the Scenic Group. "The launch of Emerald Yacht Cruises and the new Emerald Azzurra are a logical extension of the Emerald Cruises portfolio, adding intimate yacht cruising to its Emerald Waterways river cruise offering. This launch also provides a unique opportunity to introduce the Emerald Cruises brand to the Australian market."
Emerald Azzurra is being built by the Halong Shipbuilding Company which is contracted to build the hull and fit all machinery. She is scheduled to be launched in July 2021. The craft's interior fitout will be directly managed by the Emerald Cruises project team. The steel cutting ceremony was held at the shipyard on December 7, 2019. Halong Shipbuilding built the Emerald Harmony, a 73m (239ft) river cruise ship that operates on the Mekong River.
Emerald Azzurra will become the first vessel owned by the new Emerald Yacht Cruises brand and will sit alongside Emerald Waterways as the two brands making up the newly formed Emerald Cruises. Bookings for Emerald Azzurra are already on sale and she has planned voyages taking place in the Red Sea – Israel, Jordan and Egypt – and the Mediterranean – Greece, Montenegro, Italy, France, Cyprus, Turkey, Malta and Spain – offering guests a boutique yacht-cruising experience.
In terms of the future and other possible yacht cruise units, David Winterton, Emerald Cruises director of marketing and global brand curator, told IBI: "We only have Emerald Azzurra on schedule at the moment, as a business we have grown as demand increases. So, we will see how Emerald Azzurra is received first."
Scenic Group has a 30-year involvement in the tourism sector with its marine involvement dating back to 2008. It now operates a fleet in excess of 20 river cruise vessels and one ocean cruise ship, the Scenic Eclipse, which is branded as 'The World's First Discovery Yacht'. She is 168m (551.6ft) and was built in Croatia, being delivered last year. She has capacity for 228 passengers, except on Polar region voyages when she carries 200 passengers.