New installers certified in Spain, Portugal, the Canary Islands and the UK as part of continuing expansion strategy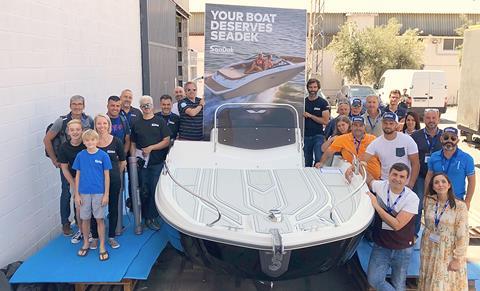 Florida-based SeaDek Marine Products continues to grow its global footprint with the recent certification of seven new installers located in Spain, Portugal, the Canary Islands and the UK.
The completion of the company's most recent round of certified installer trainings – held in June at the Ocevan Soft Nautical products facility in Alicante, Spain and at ProCast Products Ltd in Bristol, England – is the latest milestone in a continuing expansion strategy that has brought the number of certified installers worldwide to almost 100.
"Over the last several years we have worked aggressively on expanding our global footprint in order to make custom SeaDek available to aftermarket customers both domestically and internationally," says VP of marketing and advertising, Jason Gardner. "In addition to the certified installers, we have also been growing our network of 34 certified fabricators, which now extends beyond the US to cover the Americas, Europe, the UK, the Middle East, New Zealand, Australia, South Africa and Korea."
The benefit of this network, says Gardner, is the ability to not only grow aftermarket sales, but to better serve boatbuilders as an OEM. "The custom fabricators in these countries are able to supply boatbuilders in locations that would be very difficult, or simply impossible for us to supply from our base in the US," he says. "The lead times and shipping costs would make it impractical for a smaller boat builder in southern Australia, for example, to order from our Rockledge facility. But having fabrication done right there, closer to these OEM customers, allows us to deliver the level of service that we offer domestically while eliminating delays and other logistical barriers. It also facilitates material flow with our certified installers, and the aftermarket customers that they serve."
Gardner notes that aftermarket sales have become an increasingly important element of SeaDek's overall business, now representing more than one-third of its total revenues. "When we started out we focused on OEM business exclusively, and we enjoyed a lot of early success. But everyone knows the adage about having all your eggs in one basket, and once we were up and running we embarked on a strategy to diversify with our custom and retail product. The development of this growing network of certified fabricators and certified installers is key to that."
To support its global expansion, SeaDek relies on a dedicated, in-house training team, providing instruction on everything from technical matters to marketing, sales training and service. "We have project managers and trainers who travel to each country and work directly with the new fabricators and installers right in their own facilities," says Gardner. "We cover all the elements of our business in a straightforward, contained way that ensures their success."
While Gardner remains tight-lipped about where the company's global footprint might expand next, he says additional training programs are already in the works and that the company looks forward to welcoming additional certified installers and fabricators later this year.