The company is now working with the French government to develop paramilitary versions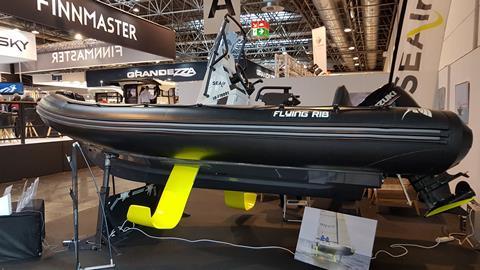 French company SEAir exhibited its unique Flying 5.5m RHIB powerboat at last week's Düsseldorf Boat Show. Hailing from Lorient in southwest France, the SEAir concept is a result of the combination of skills and passion of top competitive yachtsman Bertrand Castelnerac and innovative entrepreneur Richard Forest.
Speaking with IBI at the show last week, a SEAir representative said: "The foiling systems developed in 2017 by SEAir offer a number of clear advantages, including considerable environmental benefits with foiling boats giving higher average speeds of at least 20%, as well as greater endurance due to the 30% reduction in any foiling boat's typical fuel requirement.
"Foils also significantly improve sea keeping and comfort levels onboard fast boats by reducing slamming, with a resulting reduction in spray. The foils keep the boat above the sea or lake surface, enabling stable performance even in rough water conditions."
According to SEAir: "The business model of the company is to provide studies and designs and install its proven retractable foiling systems to fast boats, complete with electronic management systems and servo-controlled foils. Since launching the company we have received recognition for its foiling system from the French Army and Special Forces, and the company has been selected by French government defence procurement to participate in the development of a new prototype assault flying watercraft."
The company adds: "There have also been significant milestones from the commercial and leisure sectors and SEAir achieved a notable first with three specifically adapted patented systems in a single year, including the first foiling RIB. Recent deliveries in 2019 include a development project with Beneteau for a 10m powerboat with four foils and the Sillinger RHIB 7.65m, which has integrated intuitive control systems and is able to beach and dock, courtesy of its retractable/folding and servo-controlled foils."
In Düsseldorf, SEAir showed details of a modified standard paramilitary craft, a Sillinger Shark 765 RHIB with the addition of retractable foils and an electronic management system designed to carry a squad of eight military personnel.
According to SEAir: "The shock mitigation factor is an important one in paramilitary boat operations, reducing injury rates and fatigue while the quiet running, improved stability and increased speed and endurance are also key considerations."
At the Düsseldorf show, SEAir revealed to IBI details of a project with French government bodies the DGA (Délégation Générale pour l'Armement) and AID (Innovation Defence Agency). "The first stage of this project is to modify a Zodiac Mil Pro boat used by the French Special Forces. SEAir's role is to provide a new retractable system to deliver a boat with a completely flush hull when the foiling systems are in the retracted position. DGA has presented the project to the 27 EEC member states, with the defence administrations of several expressing an interest; Germany, Denmark, Portugal, Sweden and the UK. The overall concept is to develop the project co-operatively, with the involvement of at least three European defence administrations."