Aquamare Marine to offer sales and service on Seakeeper stabilisers with immediate effect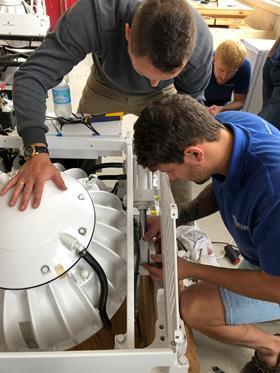 UK-based equipment supplier Aquamare Marine has become an authorised dealer of Seakeeper's marine stabilisation systems for vessels ranging from 8m-60m in length.
During recent training in Lavagna, Italy, three Aquamare Marine technicians learned the nuances of refit installation, service and maintenance. Following the training, each technician earned a certificate that makes them among the select few throughout the world able to provide full-service support to Seakeeper clientele.
"We're excited to join the Seakeeper team and will continue to offer the top-notch service all of our clients have become accustomed to," says Mike Sommerfeld, Aquamare Marine director. "Adding Seakeeper to our service proves that we're capable – and expert – in installing and servicing the best products the marine industry has to offer."
Aquamare will begin offering sales and service on Seakeeper units effective immediately. In addition to Seakepeer, the company is also an authorised dealer for AquaAir, CEM Pumps, Icom, Intellian, Opacmare, Planus, Siminetti, Sonic-Shield, SuperSail, Tecnicomar and Xenta Systems.