Astilleros de Mallorca will serve IGY customers cruising in the Mediterranean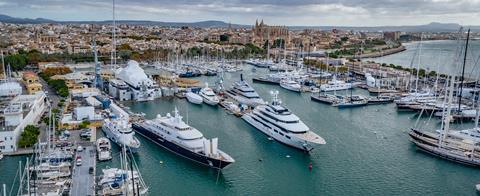 Palma-based Astilleros de Mallorca, one of Spain's leading superyacht refit and repair firms, has become a member of the IGY Superyacht Vessel Support Network, meaning it will now service the yachts of IGY customers cruising or based in the Mediterranean.
IGY customers will have access to a new repair, maintenance and refit option provided by Astilleros de Mallorca participating in the network's IGY Anchor Club Strategic Partnership. Bert Fowles, VP Sales & Marketing, IGY Marinas, commented: "The addition of Astilleros de Mallorca as an IGY Marinas Anchor Club Strategic Partner is an exciting and positive step for both the shipyard and IGY Marinas."
The IGY Anchor Club Strategic Partner network supports industry-leading companies that align with IGY Marinas' service commitment, which serves more than 9,000 unique vessels annually and approximately 100,000 customers each year across its global 18-marina portfolio. Through this strategic partnership, IGY customers are eligible to benefit from Astilleros de Mallorca's refit services in the Balearics.
With its uniquely accessible location, Astilleros de Mallorca also affords superyachts ease of access from almost anywhere in the region. As the 2020 European yachting season approaches, Astilleros de Mallorca will be showcased at IGY Marinas' Caribbean destination in Sint Maarten, Dutch Caribbean, through an exclusive superyacht captains' event, hosted by IGY Marinas and Astilleros de Mallorca.
Captains will have the opportunity to discuss potential project needs and timelines and learn about incentives to IGY and Astilleros de Mallorca clients, as they plan their vessels' European charters and cruising routes.
Astilleros de Mallorca operates a full-service shipyard with proprietary in-house key workshops and and is a member of the ICOMIA group. With its 'Preferred Subcontractors' network and a fully dedicated project management team, Astilleros de Mallorca services more than 250 vessels of up to 120m per year.
This strategic partnership builds on the excitement of IGY Marinas' first official season for IGY Sète Marina in Sète France and the company's recent announcement that IGY Malaga Marina in Malaga, Spain is joining the IGY portfolio, and other IGY activities in Europe.
"Exchanging expertise is the mainstay of delivering excellence customer service. We are delighted to be part of IGY Marinas Anchor Club and are looking forward to assist the vessels with the highest-level refit industry know-how," says Velislava Ilieva, marketing manager of Astilleros de Mallorca.