US boatbuilder optimistic about year ahead with removal of Canadian tariffs and three new models to celebrate its 40 years in business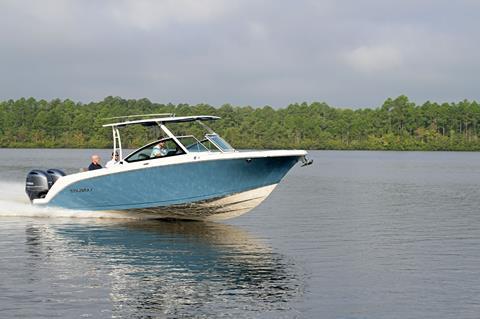 Fibreglass boat builder Stingray Boats celebrated a major milestone at its annual dealer meeting this week as the company marked 40 years in the boatbuilding industry.
In the business meeting kicking off its annual dealer event, held at its Hartsville, South Carolina manufacturing facility, the company reported strong sales for 2019 which nearly matched 2018 totals in spite of a wet spring throughout much of North America and tougher export sales in the face of retaliatory tariffs by Canada and the EU.
"The Canadian tariff came off in May, which was later in the season than we would have liked," says Stingray president Barry Avent. "Of course the EU tariff remains in place, and that has also had an impact on our overall sales. On the positive side, the US domestic business has been very strong, and has helped mitigate those setbacks. With the tariffs now removed the Canadian market should be strong this year, and the discussions we've had with dealers so far have been overwhelmingly encouraging."
Stingray introduced three new models in celebration of its 40th anniversary including a retro-themed 225 SE bowrider powered by a 300hp Volvo Penta sterndrive, an outboard-powered 231 DC deck boat and an all-new 269 DC outboard-powered deep-V dual console model. Featuring a flared, Carolina-style offshore hull, the yacht-certified 269 DC extends the company's product offering into an all-new segment targeting larger lakes and coastal markets.
Avent told IBI that the new models are evidence of Stingray's continued commitment to offer its dealers the boats they want to sell. "The intent is not to change Stingray's heritage, but to be able to grow in multiple markets," says Avent. One example, he notes, is the company's transition to include outboard-powered models that began in 2015. "Stingray has moved from being a 100% sterndrive builder to 22% today, with 78% of our boats now powered by outboards."