District court finds in favour of Sunseeker USA and orders return of 74ft Sport Yacht seized at the Ft Lauderdale boat show in November
Sunseeker USA Sales Co. Inc has issued a statement after a judge ruled in its favour earlier this week following the sequestering of a $4m Sunseeker 74ft Sport Yacht at the Ft Lauderdale boat show in November 2019. That incident was the result of a lengthy legal battle between UK-based Sunseeker International, its former dealer Richard Obey, and a quartet of dissatisfied prospective owners. US Marshalls boarded the 74ft Sport Yacht on Sunday (November 3) as the show came to a close, moving it to a secret location on behalf of one of the aggrieved parties.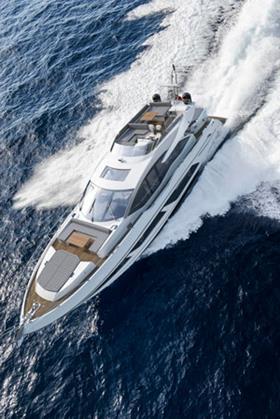 Sunseeker USA issued the following statement to IBI:
Sunseeker USA is pleased to announce its successful efforts to recover its 74 Sport Yacht further to a District Court Order. The Court's Order stated that the Plaintiffs were victim to former dealer Rick Obey and Associates' undeniable breach of the Plaintiffs' purchase agreement. Despite much pre-hearing hyperbole, Sunseeker USA was found to have rightfully terminated Rick Obey and Associates' Dealer Agreement and acted in good faith.
Sunseeker USA takes pride in its long history and many satisfied customers in the U.S. With Rick Obey and Associates' breach of its payment obligation impacting a number of valued customers, Sunseeker USA sought emergency relief to prevent further harm.
Unfortunately, the 74 Sport Yacht was in a unique circumstance which was never encountered previously in the U.S. Sunseeker USA is disappointed in the manner in which Rick Obey and Associates' treated the Plaintiffs who claimed an interest in the 74 Sport Yacht. Sunseeker USA took necessary and appropriate measures to ensure that it was represented in Court and it was pleased - although not surprised – by the District Court's findings in Sunseeker USA's favour. Sunseeker USA will continue pursuit of its legal rights to ensure that it sends a clear message that this sort of practice and behaviour will not be tolerated to protect the Brand's customers, its iconic brand and its world-class reputation.
The details of the Court findings are as follows: On February 13, 2020, The United States District Court for the Southern District of Florida issued an Order in favour of Sunseeker USA Sales Co, Inc. The Court granted Sunseeker USA's Motion to Vacate the Warrant of Arrest of its vessel, a 2020 74' Sunseeker Sport Yacht and dismissed the complaint. The Order returns to Sunseeker USA possession of the vessel.
The vessel was arrested by the Plaintiffs at the 2019 Fort Lauderdale Boat Show. The Plaintiffs claimed ownership of the vessel based on a purchase agreement and payments made to Marine Consulting, Inc. d/b/a Rick Obey and Associates, a now former dealer of Sunseeker USA. The Court found that Plaintiffswere victims to Rick Obey and Associates' undeniable breach of the purchase agreement. SunseekerUSA properly asserted that the Court was without jurisdiction and was entitled to the return of its vessel.
On January 30, 2020, Sunseeker USA also prevailed against Rick Obey and Associates in a recent arbitration. The Arbitration Tribunal held Sunseeker USA had the legal right to immediately terminate Rick Obey and Associates' contract. In addition to failing to meet payment obligations, the Tribunal found Rick Obey and Associates persistently failed to allow Sunseeker USA to inspect its books and records as required by the contract; that Rick Obey and Associates ceased providing warranty services in material breach of the Contract; that Rick Obey and Associates failed to honour its post-termination obligations. Rick Obey and Associates was permanently enjoined from associating itself with the Sunseeker Brand.
Notwithstanding unsupported statements to the contrary, the Tribunal also found Sunseeker USA had no responsibility for an alleged engine failure on a yacht sold to Rick Obey and Associates. The evidence demonstrated Sunseeker USA assisted Rick Obey and Associates through the repair process even though it had no obligation to do so and cooperated in good faith to resolve the problems.