The 40m vessel was lost overboard on Saturday during a storm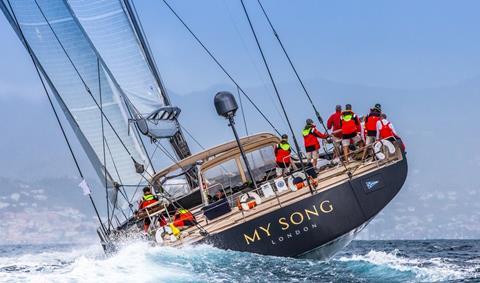 It is reported that the 40m sailing superyacht My Song was lost overboard from a cargo ship in the Mediterranean on Saturday night during a storm.
The Brattingsborg transport vessel was transporting the yacht when the incident happened in the Balearic Sea, north of Majorca.
The ship was on passage from the Caribbean to Genoa, where the yacht was to be off-loaded for some maintenance work before heading to Sardinia for the Loro Piana superyacht sailing regatta next week.
It is reported that damage to the superyacht is severe, with major damage to the stern section of the hull. When last reported, the wreck of My Song was still afloat but there is no estimate of the extent if the damage or the possibility of salvage. Some reports suggest that the yacht is a total loss.
My Song is a famous yacht and a frequent visitor to superyacht regattas. She was built by Baltic Yachts in 2016 and features a full carbon fibre hull and has accommodation for eight guests and six crew. Her owner is Pier Luigi Loro Piana and the yacht is valued at over €30m.
The reason behind the loss of the yacht overboard is being investigated and a spokesperson for Peters & May who handled the transport said that they have instigated a salvage operation whilst the ship continued her voyage to Genoa to ensure the safety of the other yachts on board.