New 11,000 sq ft headquarters and plant opens on National Manufacturing Day
US retractable sunshade manufacturer SureShade hosted a ribbon cutting ceremony in Philadelphia this month to celebrate the opening of the company's new corporate headquarters and production facility.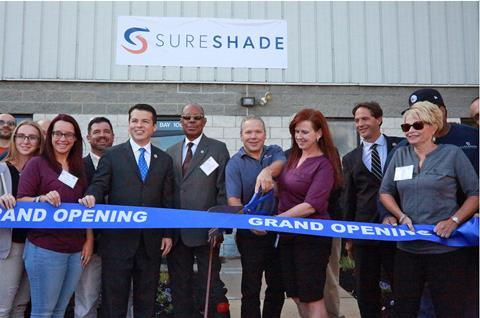 The ribbon-cutting was scheduled to coincide with National Manufacturing Day, October 4th, as an opportunity to showcase the new facility and provide delegates in attendance with a full factory tour and overview of the firm's manufacturing process for its sunshade systems. The new 11,000 sq ft facility is three times larger than SureShade's previous space and includes offices, a manufacturing production facility and a multi-purpose space that can be used for training and product development.
SureShade manufactures a wide range of retractable shade screen products for the boating and RV industries.
"I am so proud of our incredible team accomplishing this move in record time with zero production downtime – we did not skip a shipment – and I am so excited for what is yet to come here in our new 11,000 sq ft home," said co-founder Ron Russikoff. "We remain committed to growing manufacturing here in Philadelphia and we hope to serve as an example that this is what building something from nothing looks like."
Founded in 2007 by Ron and Dana Russikoff, SureShade entered the leisure boating trade that year by exhibiting a prototype of its first retractable shade screen at IBEX. The company entered into a supply agreement with Boston Whaler the following year and today supplies a wide range of boat builders as an OEM, with its products featured on more than 150 different boats at this year's Miami International Boat Show.