AP Yachting GmbH to represent Najad and Arcona Yachts in Germany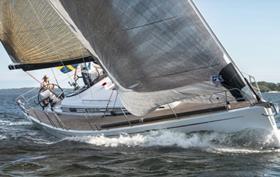 Najad and Arcona Yachts of Sweden have chosen AP Yachting GmbH to serve as their new dealer for Germany.
Making the announcement at boot Düsseldorf, Nicolas Broberg, CEO for Najad and Arcona Yachts, said: "AP Yachting GmbH, with team-mates Arne and Sören Petersen, has a lot of experience within the sailing yacht market delivering yachts in a variety of ranges for both cruising and performance categories.
"We truly believe that we have found an ideal match to re-establish Arcona Yachts and Najad in Germany."
Since 1 March 2018, Arcona Yachts and Najad have shared the same owner. Both companies manufacture and sell sailing yachts in the premium segment under their own separate brands.
Najad, with production on Sweden's west coast, produces yachts for blue-water cruising, comfort and ease of use. Arcona builds high-end cruiser-racers in Sweden and Estonia. Together, the combined companies constitute one of the strongest players on the market, offering 10 premium models from 34ft-57ft in length.
Arne Petersen, AP Yachting co-owner, said: "We are excited to add Arcona Yachts and Najad to our portfolio. As passionate sailors with long experience in the yachting business, we look forward to growing awareness and sales for Arcona Yachts and Najad in the German market.
"Arcona Yachts are the top-level cruiser-racer with fabulous comfort and level of quality combined with proven top performing racing ability on the race course," he adds. "Najad are renowned for building beautiful bluewater cruisers and it is an honour to work with such superb yachting brands."