The Avon eJET 450 is a 100% electric tender ideal for yachts over 30m in length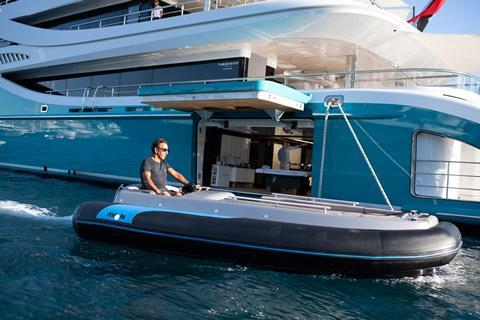 Jet tender specialist Avon, part of the Zodiac Nautic Group of France, has chosen the UK's Superyacht Tenders & Toys (SYTT) to serve as the global superyacht dealer for its electric jet tenders.
The Avon eJET 450 is ideal for yachts of over 30m in length, replacing many of the well-known petrol and diesel alternatives. It can be configured in any colour combination and can come with a number of features such as a carbon bimini, carbon steering wheel, folding seating and more.
The eJET 450 features Torqeedo's 55kW Deep Blue electric engine and the latest generation of automotive battery (30.5kWh, as used in the BMW i3).
"Avon is a great fit for yachts as a small guest tender," says Richard Booth, senior project manager and sales manager at SYTT. "The boats are well-built, dry, fast and offer an enormous amount of guest seating, all at a very attractive price point.
"We are looking forward to showing clients the boat in the flesh at LYBRA The Superyacht Show in May," he adds.
SYTT, which is headquartered in Ipswich, Suffolk, manages and delivers yacht tenders and toys to superyachts globally. The company also runs a yacht tender and toy rental business with a warehouse in the South of France.