La Spezia facility now open and playing key role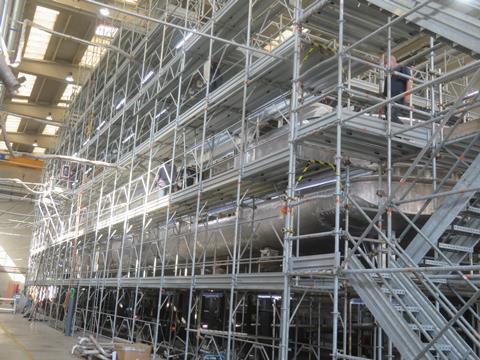 Italian superyacht builder, Tankoa Yachts, is working through a carefully orchestrated growth plan. The launch of the second hull in its 50m series, named the Binta D'Or, marks the latest step in this plan which was first outlined at the Monaco Yacht Show last year.
The 49.9m (164ft) hydbrid superyacht Binta D'Or, building for a European owner, is set for completion and delivery by June. The new yacht, Tankoa's first hybrid vessel, was built under a hull number S501 Elettra project name and she is similar to Vertige, the first in this series. Binta D'Or is due to be exhibited at the 2019 Monaco Yacht Show although it is being owned and used as a private yacht.
In an interview with IBI, Guiseppe Mazza, head of Tankoa's Sales & Business Development, appointed just six months ago, explained that two more 50m yachts are in build with hull 3 near to being sold and hull 4 just having its aluminium cut.
"Hull 3 is due to be completed by May 2020 and hull 4 by April-May 2021," he said. "Hull 3 is the first of our new builds to have its hull and superstructure built at the company's new facility in La Spezia and then floated round for completion in Genoa. Hull 3 is very close to being sold and we are talking with a number of potential buyers for hull 4."
The exterior design of the all-aluminium 50m series is by the yard's main designer, Italian studio Francesco Paszkowski Design. The interior was done by Paszkowski working in collaboration with Magherita Casprini. Binta D'Or's interior features the use of a lot of natural materials to present a light and modern interior.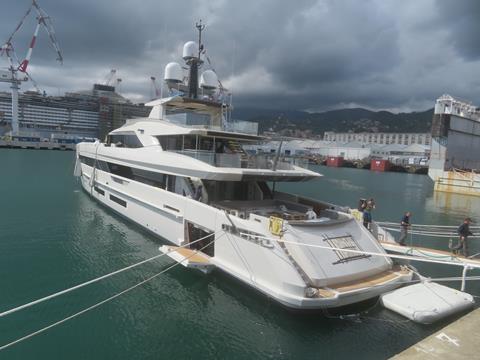 The main differences between Binta D'Or and Vertige is that the former, because it will be a privately-run yacht, has five instead of six cabins (master suite plus two VIP and two twins), and forward a touch-and-go helipad which replaces a forward entertainment area. The lower deck apart from the four guest bedrooms includes the crew quarters, a gym and beach club.
Its lower deck is equipped with a gym and beach club, with guests accommodated across four cabins: two VIP cabins with king-sized beds, two twin cabins and crew quarters are also found on the lower deck. Unlike Vertige which has six cabins, Binta D'Or has a five-cabin layout, with the owner's suite located on the main deck.
Mazza explained that being the company's first hybrid yacht, the Binta D'Or will have four propulsion options and this also gives the company experience of this growing trend in the yacht market. The yacht has been built in association with Lloyd's Register and is MCA compliant. She has a range of 4,500Nm at 10 knots, so has a transatlantic capability.
In terms of growth, Mazza emphasised that Tankoa is fulfilling its plans at its own pace. "We are debt-free and self-financing which gives up a strong position in going forward," he said. Tankoa's growth centres around its new La Spezia facility; the recently established custom division which would be able to build superyachts up to 90m (296ft) or more, and a range of concept designs which can used as sales and marketing tools to potential new clients.
In terms of custom sales, Mazza indicated that the company were in a strong negotiation on a 70m (230ft). Tankoa's current range of concept includes 53m (174ft) and 58m (190ft) fast displacement models and full displacement models of 62m (203ft); 70m (230ft) and 80m (263ft). "We are also receiving a lot of enquiries about expedition yachts," Mazza commented.
As part of the company's future growth, the new facility in La Spezia is play a key supporting role. "We are using the La Spezia yard as a metal cutting centre plus we will build our hulls and superstructures there," Mazza said. "We then bring the hulls round to Genoa for completion. In the event we get more orders than Genoa can handle, we could use the facility to build a yacht up to 90m.
"In the event we get an order for 100m or more yacht, we have options to use facilities that we could rent in Genoa, La Spezia or Viareggio," Mazza added. "My main ambition is to sell a yacht to an American owner. I am very keen to show the US market what we can do and we are a talking to a number of possible American buyers."