Australian yard to welcome first superyachts to new facility this summer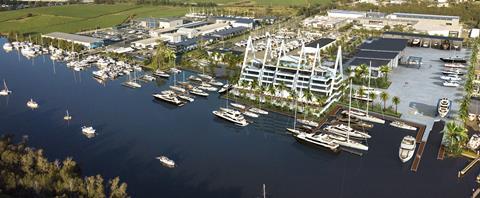 The Boat Works, Australia's largest shipyard and marina facility, has doubled in size to 54 acres (218,530sq m) and is on track to welcome the first superyachts to its new purpose-built facility by summer 2019.
The Boat Works' new superyacht yard, with private investment of more than A$100m, is expected to create thousands of jobs in the marine and service industries. "Superyacht visitation and expenditure will have flow-on benefits to the broader community," the company claims.
Owner Tony Longhurst says The Boat Works is the cleanest and greenest shipyard and marina in the world. "We are committed to maintaining the health of our waterways, to operating sustainably and with minimal impact on the environment," he says. "The innovations we have implemented throughout the existing facility and the new superyacht yard are testament to our aim of minimal impact, and in fact improving water quality."
The Longhursts are one of southeast Queensland's pioneer families, investing in Coomera for 40 years, the past 20 years focused on the Gold Coast Marine Precinct.
"The Boat Works have taken a multi-pronged approach in terms of air, water and soil to being custodians of this site making it better than when we arrived," says Carolyn Rose, Tony's sister and a qualified ecologist/environmental scientist.
"To reduce our carbon emissions, we have installed a 100kW solar panel system in the south yard with a similar system to be installed in the superyacht yard. We acknowledge the benefits that mangroves can do to protect the shoreline and encourage them to establish by installing walkways to the marinas, which slow the effect of boat wash down and protect the banks from soil erosion.
"To protect the river, The Boat Works has rainwater tanks and has installed stainless steel grates to catch debris, along with water filtration, wastewater recycling and bio-garden systems to improve water quality.
"We know our customers appreciate the clean yard and great service, and that extends into the enjoyment of their boating experience in the surrounding waterways."
The Boat Works in its entirety occupies over 500m of prime waterfront land within the heart of the Gold Coast Marine Precinct and is said to be the largest shipyard and marine facility in the Southern Hemisphere. The existing southern yard operates at full capacity, with a haul-out rate of 50 vessels out-of-water per week, 60-plus marine trade professionals and an onsite chandlery superstore.