A revolution is about to hit the universe of ocean racing. The Figaro 3 is the first example of Groupe Beneteau's intention to develop the use of foils in ocean racing. It is a new approach for both professionals and adrenaline-loving amateurs of new technologies
The industrial buildings are like any you would see at industrial sites on the outskirts of a French town. That is, except for the large eye-catching insignia 'Groupe Beneteau - Racing Division' and the immense photo of a racing boat in full action – the only clues to a casual observer that it is here, at Cheviré, in the southern suburbs of Nantes, that tomorrow's world of ocean-racing sailing is being designed. Or rather today's world, as the 50 Figaro Beneteau 3's now being built here are the first ever mass-produced foil sailing boats. Cheviré has a long history of innovations. It was here, not far from the Loire river, in 1992 that Jeanneau set up JTA (Jeanneau Technique Avancées), its workshop specialising in racing sail and motorboats. Along with high-tech ocean racers such as the 60ft Fleury-Michon XI trimaran, JTA developed new concepts in leisure boats. All were brilliant successes. Cheviré also turned out the first cruise Lagoon catamarans, then the new Prestige motorboats.
Battle of the Vendée
In those early days, Beneteau was vying with Jeanneau, its great Vendée rival. It was a merciless battle that ended in 1995 with Jeanneau bankrupt and Beneteau picking up the pieces. After those troubled times, the Cheviré site stopped production, and the buildings became simple warehouses for stock.
A sort of poetic justice now? In 2016, it was here in this vast 2,600m2 hall that Hervé Gastinel, Groupe Beneteau president, decided to set up the new Racing Divison. Its objective? "To bid in the tender launched by the Classe Figaro for a new generation of racing sailboats based on VPLP Design plans," says Gianguido Girotti, managing director of the Beneteau range and head of the FB3 project (Figaro Beneteau 3). "We had demanding specifications for this third monotype in the Figaro class built by Beneteau: a lighter boat, but also more technical than the two previous models – and capable of being mass-produced." There was also a serious technical innovation in this new product: all the monotypes would be equipped with foils. They had to be exactly identical and have the same equipment. These requisites are what make the famous French race appealing and a breeding ground for future champions of the Vendée Globe and Imoca races: the contestants' talent alone will set them apart. They are at the helm of basic and high-performance boats, where comfort is of no importance. Weight is an obsession. On the FB3, the foils have replaced the ballasts, making them 400 kilos lighter.
Three leaders in these 'Made in France' boats came together to design this new 9.75m sailing boat: architect Lorriot-Prévost (the LP of VPLP), multihull builder Multiplast for the foils, and Mer Forte (celebrated navigator Michel Desjoyaux's design company) to integrate the foils in the hull.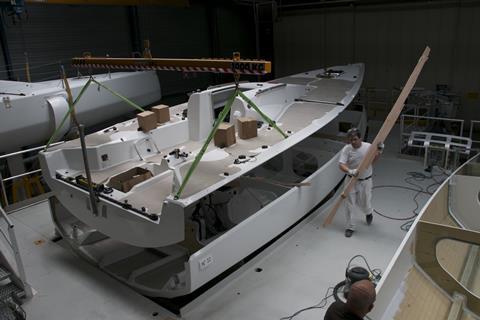 Deadlines
Beneteau is therefore in charge of industrial output. It is a substantial challenge for this Vendée builder in terms of specifications and deadlines. "We started from scratch, with a foil technique that hadn't been tested," said Bernard Bachelier with a smile. He was formerly at JTA/Jeanneau, and came back to Cheviré to head production at the site. "Apart from an empty workshop we were given in February 2017, there was nothing else. No team, no design office, no tools. We had to build the workshop and the boat at the same time, with the target of building a prototype to put to water in July 2017." The deadline was met. It was authorised as a Figaro class and production began in September 2017. An investment of €1m was needed to make the workshop viable, create a production line and a clean room for the infusion of the units made up almost entirely of composite (98%). Today the Racing Division employs some 30 people in production, design and purchases. "It was a group undertaking, with skills that came from both Jeanneau and Beneteau," Girotti insists.
The 75m-long by 35m-wide hall is filled neatly with hulls side by side in order of completion. When IBI visited, the technicians were putting the bridge on hull number 22. After the clean room, the production line has four stages, each lasting five days. The hull is lifted by crane from chamber to chamber, in turn partitioned, given a 20hp Nanni Diesel motor, plumbing and electrical circuits. It is then given a bridge, foils and chandlery. In the last chamber the boat is keeled. Each unit will then be tested for mechanics and air-tightness before being carefully lined up on the outside parking area.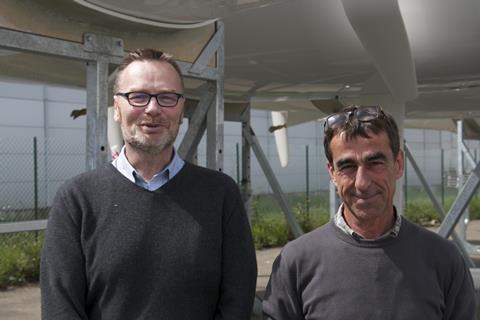 "Assembly takes 20 days. The mould workshop has to produce at least a hull a week to keep the whole thing turning." On paper everything looks simple. But the stakes are high for these monotypes and everything is very carefully overseen. All the boat's parts are systematically weighed and numbered for traceability. All the composite partitions are made by template. Around 90% of the FB3 production is on-site. "There are several challenges," admits Marc Vaillier, another old-hand of ocean-racing and now in charge of the FB3 project. "We have to bring out a boat a week. To maintain the monotype, they all have to be identical in weight and chandlery. There are less than 10mm differences in the assembly of compartments and fixtures: keel, rudder and foils."
The Figaro Race
The Solitaire du Figaro is an annual solo multi-stage sailing race that started in 1970. The One-design (monotype) nature of the race and the participation of renowned solo sailors as well as amateurs make it one of the most prestigious sports sailing events in France.
URGO have been sponsors since 2017 (for three years) of this race organised by an association called 'La Classe Figaro'. It has four stages that vary from year to year along the French coast over an average of 1,500-2,000 miles. The course is sometimes in a loop and represents between 10 and 13 days at sea.
Since 1991 the race has called for identical boats (One Design/monotypes). The racing boat first chosen was the Figaro Beneteau I designed by Finot and Berret and built by the Beneteau shipyard
In 2003, the boat chosen was an improved version, the Figaro Beneteau 2 designed by Marc Lombard.
For its 50th anniversary in 2019, the race will have a new monotype, the first factory-produced foil sailing boats in the world: the Figaro Beneteau 3, the brainchild of experts at Groupe Beneteau and naval architects Van Peteghem Lauriot-Prévost (VPLP).
The departure of the 49th race was on August 26, 2018, from Le Havre. First stage is Le Havre - Baie de Saint-Brieuc (570 nautical miles), 2nd stage Baie de Saint-Brieuc - Ría de Muros-Noia in Spain (520 nautical miles), 3rd stage Ría de Muros-Noia - Saint-Gilles-Croix-de-Vie (440 nautical miles), 4th stage Saint-Gilles-Croix-de-Vie - Saint-Gilles-Croix-de-Vie (165 nautical miles).
Affordability
To ensure equality to the end, all the FB3s taking part in the 2019 Figaro season will be allotted at random in December 2018 at the Paris Nautic show. What is the price of this new generation of racing boat? For class racers, €150,000 (not including VAT), and without the price of the sails – the only discretionary feature given the sailors. Beneteau will help potential buyers of an FB3 via its financing partner SGB Finance. "With 20% downpayment – the equivalent of selling a Figaro 2 – and monthly repayments over five years, it is more interesting for a skipper to buy this boat than rent one," says Girotti. He also suggests in passing that it might be profitable for a purchaser to then rent it out to a racer.
The Racing Divison's objective might be to 'help the Figaro Class', but the Vendée builder is aware it can benefit by being in pole position in this niche market. The first 50 FB3s built this year will be followed by at least 50 more annually in the coming years. The Figaro Beneteau 1 (which raced from 1990 to 2002) was produced in 140 units, the Figaro Beneteau 2 (raced from 2003 to the 2108 season) in 96 units. The FB3 is an excellent racing boat, adaptable, and has the added advantage of being classed in Category A for navigation. This means that it can take part in deep-sea racing, and events that are less purely French than the Figaro. Perhaps even in the mixed double championship as suggested by World Sailing? Or as an alternative to Olympic sailing? Relying on an international market to go outside its usual environment, Beneteau is delighted that five of its 50 FB3 2018 models have already been sold to local regatta participants, seduced by the potential benefits of this little foiler sailing in America, China and Australia. And will those who are keen on performance and new technologies also be the pioneers? That is what Groupe Beneteau is counting on for the future.
Specifications of the Figaro Beneteau 3

Hull specs
Length of hull
9.75m
Length of waterline
9m
Max width
3.47m
Draught
2.5m
Light displacement
2,900kg
Surface of sails
Main sail
39.5m2
Genoa
30.5m2
Solent
24m2
Large asymmetric spinnaker
105m2
Forestay fitting
78m2
Gennaker code 5
65m2
Mast
13.76m
Pricing
Price for skipper in Figaro class
€150,000 (excl. sails)
Price for public excluding taxes
€170,000 (excl. sails)