Possible fire risk prompts safety advisory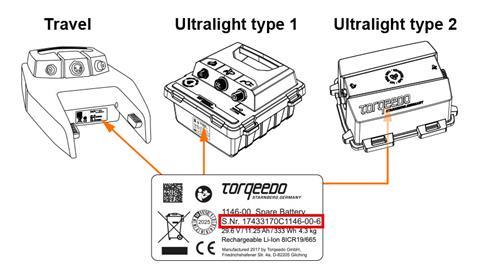 Germany-based Torqeedo GmbH has issued a safety warning related to a potential fire risk involving rechargeable batteries used to power the company's Travel and Ultralight electric outboard motors.
According to the company, the fire risk relates to the possibility of leaks in the battery housing, allowing water penetration that can lead to internal chemical reactions. "If water penetrates into the housing, it may cause a chemical reaction inside the battery case under unfavourable conditions, resulting in fire and/or bursting of the battery housing," notes the advisory. "As a responsible manufacturer, Torqeedo wants to exclude the risk of injury and inform its customers."
Affected units can be identified by serial number. Torqeedo will perform and repair if required for Travel-series product beginning with serial numbers 1001 through 1752, and Ultralight-series product beginning with serial numbers 1117 through 1826. The company is requesting consumers who own models with these serial numbers to register via the company's website at www.torqeedo.com/safety. Following registration, the company will then arrange for a safety check through a local service centre.
"We apologise to our customers for the inconvenience and thank them in advance for their understanding of the implementation of this safety measure," said Torqeedo managing director, Christoph Ballin. "This approach is very important to us because we are committed to providing our customers with products of the highest quality and safety."