New partnership will deliver clean energy options for yachting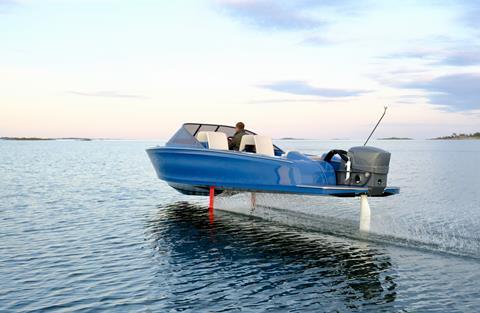 Torqeedo recently announced a number of new partnerships including one with ZF which is set to take electric yachting to a new level. This new relationship plans to deliver next-generation sailing yacht systems: powerful, silent, steerable electric sail-drives and clean energy independence for yachts. It is anticipated that new products from this partnership will be introduced by the end of this year.
To accomplish this, ZF's steerable sail-drives with joystick docking technology will be fully integrated into Torqeedo's Deep Blue propulsion system to provide superior electric propulsion and energy management. These 50kW and 100kW electric propulsion systems will provide both good manoeuvrability with joystick docking, and effective hydro-generation performance, allowing sailing yachts to generate their own clean, renewable power.
Achieving the increased hydro-generation efficiency is initiated by reversing ZF's steerable sail-drive while the yacht is under sail, allowing the spinning propeller to rotate the motor, generating electricity to charge the vessel's high-capacity batteries. This generates substantial renewable power which is then managed and distributed for propulsion and all other DC and AC onboard power needs by the Deep Blue system.
Owners of yachts up to 37m (120ft) will be able to be fully self-reliant at sea. The role of the diesel generator is reduced from being an indispensable provider of power while living aboard to being a backup needed only for extended motoring or long-term mooring outside marinas.
"ZF Group strategy supports transition towards electric mobility in all market segments from automotive to off-road applications," said Federico Decio, Vice President ZF Marine Pleasure Craft. "Accordingly, ZF is continuing to expand its portfolio of environment-friendly marine propulsion solutions; the new fully electric propulsion system will combine ZF's Steerable Pod Propulsion system (SPP) and Torqeedo technology to literally steer skippers into a cleaner, more sustainable future. The system will make docking not only intuitive and relaxed, but also emission and noise-free."
For Torqeedo, Christoph Ballin, CEO and co-founder of Torqeedo GmbH, commented: "Sailing yachts are one of the first yachting applications to migrate from combustion engines towards cleaner electric solutions. The products stemming from this cooperation of ZF and Torqeedo will be an important milestone in this transition."
In 2020, Torqeedo celebrates its 15th year of technology innovations and delivering its 100,000th electric drive. Ballin remarks: "A more sustainable marine industry is being built today – not only in Torqeedo's headquarters in Germany, but with Torqeedo partners worldwide. It is thrilling to see innovation from both inside and outside the marine industry coming together to develop a holistic infrastructure and ecosystem for electric mobility on the water, from high to low-voltage, commercial to recreational."
Torqeedo is also cooperating with WaterWorld, the Dutch manufacturer of electric inboard motors. Under this arrangement Torqeedo will use WaterWorld's 4kW and 10kW models which are air-cooled, low-maintenance direct drive units and market them and provide international support.
In other recent developments for Torqeedo:
Torqeedo's Power 48-5000 lithium battery was chosen to power the America's Cup AC75's foiling cat system
The America's Cup foiling technology is being used by Torqeedo to revolutionise electric speedboats. Thin but strong underwater wings lift the Torqeedo-powered Candela Speed Boat out of the water and drastically reduce drag. Candela is combining hydrofoils with a very light, all-carbon 7.6-m hull, reducing energy consumption to 25% of a traditional motorboat. At 25 knots, this craft has a range of 50Nm
Another high-profile project featuring advanced system integration is the Spirit 111, the world's largest sailing yacht with an electric drive. The Deep Blue Hybrid electric drive system not only propels the yacht, it captures clean energy while sailing which is then used to power the onboard loads like the galley, lighting and watermaker. The yacht's Lewmar hydraulic sailing systems are also integrated and powered electrically through the central Deep Blue Hybrid system
Torqeedo will launch two new motor models in 2020 comprising a new professional-grade Ultralight motor for serious kayak anglers, and a 20hp equivalent Cruise 10.0 T outboard with tiller steering. Also coming in 2020 are new fast chargers and new solar charge controller for the Power 48-5000 series of lithium batteries
"As we pursue these new developments," Ballin said, "we continue to advance our core products where electric mobility offers compelling user benefits."