UK glazing specialists rewarded for work on revolutionary glazed staircase in the Tiffany Gallery in New York
UK glazing specialists Trend Marine have picked up a Commendation at The Institution of Structural Engineers 2018 Structural Awards, for its revolutionary glass staircase in the Tiffany Gallery in New York City. The award, in the category of projects under £1 million, was one of just two Commendations given on the night, and was collected by Tim McFarlane (of GL&SS Glass Light and Special Structures) with Clifford Chapman (the head of company that assembled it), and architect, Eva Jiřičná.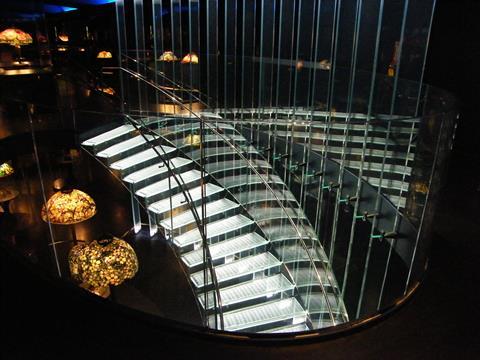 Trend developed the multilayer laminating of chemical toughened ultraclear glass, with stainless connectors embedded in the glass. The firm also developed the process of using sandblasting almost as a machining process, to dig 2mm deep into the tread surface. The laminating process was carefully controlled so that each element has the same amount of haze, which when side-lit with LEDS makes the whole staircase glow.