Alia Yachts is building a new complex in Antalya that will triple the size of the yard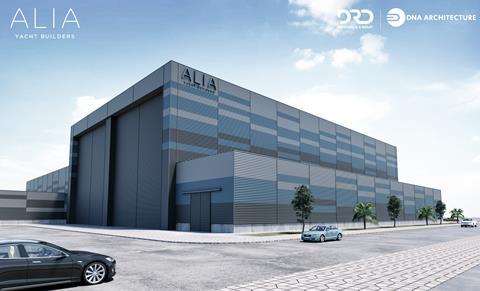 Turkey's Alia Yachts is building a new complex adjacent to its existing facilities in the Antalya Free Trade Zone, effectively creating a whole street block dedicated to the brand.
Due to be completed in July 2019, the total indoor area will cover 16,000sq m. In addition to the various storage areas and workshops, the complex includes five construction halls each measuring up to 90m in length. Two of the halls will have a height of 22m, allowing for larger yachts to be assembled under cover, including the radar masts.
"This expansion will help us achieve three key objectives," says Gökhan Çelik, founder and president of Alia Yachts. "Firstly, it will increase our production capacity and allow us to work simultaneously on more projects. Secondly, it will enable us to accommodate larger projects than our existing sheds currently allow. And last but not least, it will help grow our focus on the refit sector."
The existing Alia facility covers an area of approximately 8,000sq m and comprises three construction sheds, specialist workshops and a dedicated interiors atelier, which has expanded in recent years to supply bespoke interiors to other yacht builders in countries such as Holland and Australia.
The new complex will triple the size of the shipyard and, on completion, Alia Yachts will rank among the top yacht-building facilities in Turkey.
Alia Yachts was founded in 2008 by Gökhan Çelik, together with his business partner Ömer Koray. In addition to the 32.4m Nozomi II, sister ship to the 'pocket superyacht' Virgen del Mar, Alia has two other motoryacht projects in build and a further three under final contract negotiations.