The state-of-the-art facility in Eagle Farm, Brisbane also operates as a distribution centre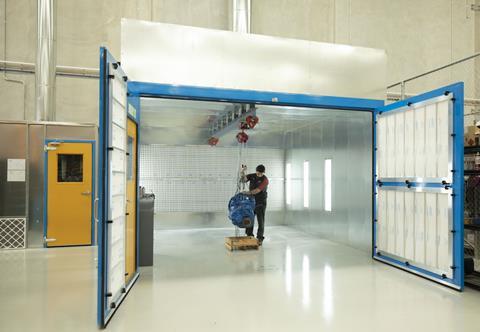 Twin Disc Pacific has moved its regional headquarters in Brisbane, Australia to a new state-of-the-art facility in Eagle Farm – an eastern industrial suburb of the city.
The total land area is 6,639sq m, with the building itself an impressive 2,700sq m featuring office, campus-style café facilities, a warehouse and a workshop, all under one roof.
As well as operating as the regional headquarters, the facility will also serve as the distribution centre for all Twin Disc marine and land-based products, their supporting brands, along with Seakeeper and Sea Torque products.
Over A$8m in stock is on hand in the 900sq m-plus of warehousing to ensure prompt and reliable delivery of new products or spare parts, allowing for rapid response to clients' requirements.
"The impressive workshop facility is world-class, featuring diesel and electric transmission test stands equipped with data acquisition and monitoring for increased quality management," says the company in a statement.
"Individual work stations have been designed and constructed to aid efficiencies with individual hoists and direct electronic access to Twin Disc specific literature, manuals and test specs to ensure that every job is completed to the highest standard."
A purpose-built wash down bay helps to reduce contamination and maintain a clean work environment, alongside paint stripping and parts cleaning machines to assist with accurate condition assessment and parts preparation prior to repair and re-paint.
A highlight of the workshop, says Twin Disc, is the paint booth. It was designed so that all sizes of equipment can be retouched or repainted to as-new condition.
"We pride ourselves on delivering premium quality products and solutions in a safe, timely and efficient manner all to our clients' expectations," says Twin Disc Pacific MD Glenn Frettingham. "Our new facility will allow us to continue to improve on this commitment whilst offering a purpose designed and built environment to allow increased focus on training and staff development to ensure our core mission of integrity, people, quality, and value remain the focus for many decades to come."
Established more than 100 years ago, Twin Disc Inc is a US manufacturer of transmission, propulsion, steering and other systems for the marine and other markets. Its Australian subsidiary, Twin Disc Pacific, is headquartered in Brisbane with branches in Perth and the Gold Coast.