Sea Pro Boats and Xplor Boatworks are both increasing the size of their facilities to accommodate growth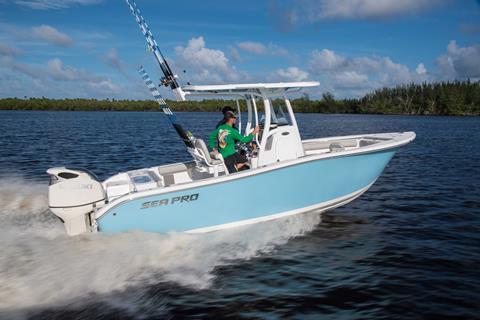 The US marine industry trend moving toward bigger boats and bigger outboards has two South Carolina builders moving toward bigger facilities and bigger things ahead.
In a tale of resurrection redemption, Sea Pro Boats is undergoing a US$3m expansion from its Newberry County locale, with a second facility to accommodate construction of its 26ft model, and the addition of 28ft and 32ft models expected this summer.
The new plant is located 40 miles away in Fairfield County, which is contributing a state grant of US$1.25m to offset costs, according to the Charleston Post Courier.
"That's kind of the trend; everybody is going bigger," co-owner Jimmy Hancock said. "A lot have stopped building smaller boats all together. We're not looking to expand our smaller boat line at all."
Hancock started Sea Pro in 1988 before selling to Brunswick Corporation in 2004. Sea Pro was one of the brands shuttered by the marine giant during the US recession in 2009.
In 2015, Hancock and Tidewater Boats' founder Preston Wrenn combined to give the old brand-new life, investing US$5.5m in 200,000sq ft of manufacturing space and hiring 238 people.
Xplor Boatworks was formed by necessity when adventure films producer Frankie Marion needed a boat to accommodate tents, cameras, sleeping bags and other gear. During a 900-mile trip around the Louisiana Delta, Marion said, people they met along the way wanted to know where they too could get one.
Over the past three years, Marion has grown the company to 20 employees, and with the doubling in size of its current 50,000sq ft facility, hopes to add an additional 60 to 100 employees over the next three years.
"With the economy being good there's been more expendable income to go around the last five years," Marion told the newspaper.
South Carolina accounted for US$661m in new boat sales, according to the National Marine Manufacturers Association (NMMA). That's up 4% from 2017 and the 10th highest sales volume in the US.
In 2018, two other South Carolina builders made major investments with Tidewater Boats adding 100 new jobs and a US$8.3m second facility, and Pioneer Boats – which nearly moved its business out of the state – invested US$3m to expand with a doubling of its workforce over five years.
Both companies received state grants to assist with the expansions.