KCN Marine in Bodrum to represent NZ firm's artificial teak in Turkey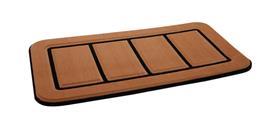 KCN Marine has been chosen to represent the U-Dek range of artificial teak in Turkey.
U-Dek, a division of Ultralon, is a New Zealand-based developer and manufacturer of closed-cell, cross-linked polyethylene (PE) and ethylene-vinyl-acetate (EVA) foams that are suitable for a broad range of applications – particularly the recreational and performance marine industries.
They are easy to clean and are stain-resistant to provide protection for boat surfaces, especially in high traffic areas.
PE and EVA foams, known as artificial teak in marine literature, are lightweight and also offer a high level of insulation, minimal water absorption and toughness. They are UV-resistant, noise-reducing and shock-absorbing.
The traditional teak-look is achieved by CNC routering through the top layer of foam, exposing the layer underneath.
Tarcan Kaçan, KCN Marine's founder, says: "We are getting very positive reactions to this product. Even we forsee that in five or 10 years' time, half of the boat owners will use this artificial teak instead of teak wood."
KCN Marine is receiving inquiries mostly from RIB and sportfishing boats at the moment.
Based in Bodrum, KCN Marine is a sister company of Ayhan Berendi, a provider of upholstery services to the Turkish marine sector since 1988.
U-Dek by Ultralon also has offices in Australia and the US.