Denmark's Global Timber to distribute Lignia Yacht decking across Europe for an initial five-year period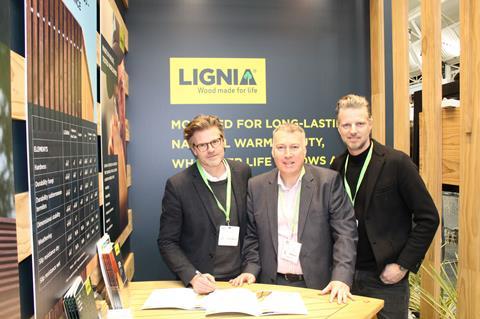 Lignia Wood Company, a British timber modification business, has chosen Global Timber in Denmark to distribute Lignia Yacht – its real wood alternative to Burmese teak deck – across Europe.
The news comes not long after Lignia signed its first major distribution agreement with US-based Teakdecking Systems for the North American market.
"We're already working with leading distributors in North America for Lignia Yacht and I'm delighted to say that Global Timber will be a very important element in our development now across Europe for our innovative Lignia Yacht product," says Steve Rogers, Lignia's commercial director. "Thanks to Global Timber, Lignia Yacht is now available from their Danish and German depots anywhere in Europe within 48-72 hours."
Lignia Yacht is FSC-certified softwood that is modified in Lignia's new manufacturing plant in Barry and turned into a wood that matches or exceeds the performance of Burmese teak in yacht decking. It is entirely legal, sustainable and tested by leading accreditation bodies in the UK, Europe and North America.
Global Timber is one of Europe's leading timber firms. Based in Aarhus, Denmark, the company claims to have the largest warehouse in northern Europe for hardwoods and a track record of working with leading yacht deck manufacturers, shipyards and specialist merchants.
The agreement between Lignia and Global Timber covers an initial five-year period and the Danish company, led by CEO Peter Baek, will sell Lignia Yacht across Europe on a joint exclusive basis.