The group's Cape Town division is now headed by Michael England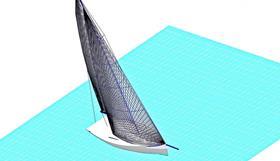 Ullman Sails International has established a new manufacturing division in South Africa under the leadership of recently-appointed chief executive Michael England.
The deal, finalised in September, involves the purchase of one of their licensee manufacturers, Ullman Sails South Africa based in Cape Town, which now becomes the global headquarters of Ullman Sails Manufacturing.
The Cape Town facility is already the largest sail-making facility in the southern hemisphere and is now likely to expand further.
England told IBI the move is aimed at growing Ullman's global footprint via operational efficiencies, which include switching time-zones. Ownership of the Cape Town facility, which produces about 30 sails a day, would also allow the company greater control over their product.
"A problem within the group was that we didn't have a dedicated manufacturing facility," England said. "Although the Cape Town facility did most of the group's outsourced manufacturing, it wasn't exclusively for the group. So earlier this year the decision was taken to merge the two companies, and the ownership group of Ullman purchased the Cape Town facility."
England said the Cape Town facility was an obvious choice, given the long association with Ullman Sails. It was also prompted by the retirement of the longtime owners of the facility, Jannie and Belinda Reuvers. "About 80% of the product is exported," they said. "Our product quality is very highly regarded and the plant can produce sails for dinghies right through to big boats (110ft yachts). It is the only membrane manufacturing facility in South Africa."
The Ullman group services the entire globe from South Africa and comprises 75 independently owned companies in 30 countries worldwide. It was founded in 1967 in California.