More than 50% of the hull of the Vaan R4 is made from recycled aluminium
Vaan Yachts BV showed off its design for a sleek – and very green – 12.8m (42ft) catamaran at this week's HISWA-in-Water Boat Show in the Netherlands.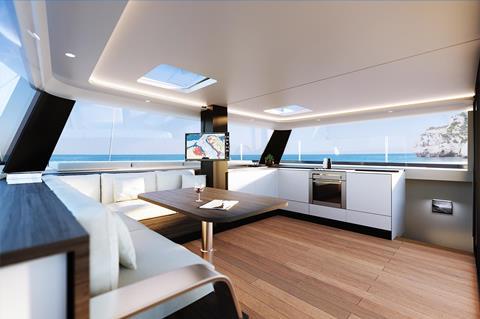 More than 50% of the hull of the Vaan R4 is made from recycled aluminium – stuff like old windows, traffic signs, car tags, etc.
Some parts contain more than 75% 'circular' materials such as cork, linen, pineapple leaves and other plant-based alternatives to leather.
The Dutch company plans to build its first R4 in the year ahead. It hopes to achieve an annual production of 20 R4s, Vaan Yachts' Igor Kluin, a serial investor in smart, sustainable energy projects, told IBI.
The company gets its recycled aluminium from Norway's Hydro aluminium maker – the first such circular application in the yacht building industry. It is taking pre-orders and plans to build a "limited number" in the next two years, at a price starting at €399,000 plus VAT. At the end of its lifecycle, the Vaan R4 is recycled.
Kluin says the ranks of monhohull sailors are thinning because tight quarters and challenging weather conditions are not equally enjoyed by all aboard. "We are seeing more catamarans because cat-sailing is a family event. Catamarans are good for entertaining, but lack sailing qualities."
Vaan Yachts fixes that by giving its low-slung R4 a fast design. The R4 has a sporty, open transom and twin wheels. There is no cockpit cover, but a modest bimini, a massive deck saloon with an indoor dining table and full galley. The cockpit holds a second dining table. The hulls hold high-end cabins for the the owner and guests.