South African builder sells three new models off-plan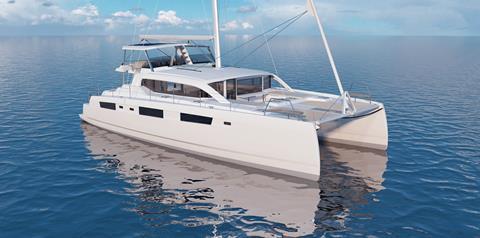 South African builder Voyage Yachts this week confirmed sales of three of its new Voyage 590 model off-plan – before the first boat even has its deck on.
Managing director Kay Oldenburg told IBI the 17.5m luxury cruising catamaran will only be ready for demo early next year, but has already garnered significant interest. "What I can report so far is that we managed to sell three of the Voyage 590 from the plans only, something we haven't done in two decades," Oldenburg said. "If one can believe the marketing team, we will have sold six before the first is launched, but seeing is believing," he added.
The new model can take 12 passengers and has a cruising speed of 9kt, powered by 2 x 56kW (75hp) engines. Oldenburg said the first build is progressing well. "We are moving along with our daily grind and the first Voyage 590 soon gets its deck on by August," he said.
Voyage has also reported a surge in interest in its hybrid electric designs following the launch of its first hybrid in December 2018. The Voyage 480 hybrid is a precursor to a bigger electric hybrid model due out later this year. "That's the future," Oldenburg told IBI earlier this year. "At the moment it is pricy, but the more clients get involved the more affordable it becomes."
The Voyage yard is situated in Cape Town's boatbuilding hub, Paarden Island, close to Cape Town harbour.