UK builder reports 23% rise in Dieseljet sales in 2019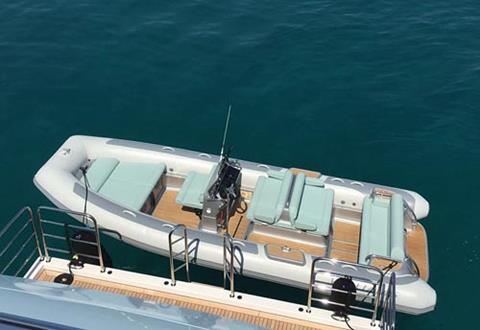 Williams Jet Tenders ended 2019 on a high after seeing a 23% rise in Dieseljet sales versus 2018 and is projecting a further increase in Dieseljet sales in 2020.
Speaking to IBI at the Düsseldorf boat show earlier this week, company founders John and Mathew Hornsby said the builder had launched more than 100 Dieseljets last year and that the order book for that segment of its portfolio ran well through July 2020.
John Hornsby added that the Dieseljet range, for boats from 82ft (25m), had become something of a "tick box" item for many of the premium UK and Italian motoryacht builders in particular. The Dieseljet range includes four models, the 445, 505, 565 and 625, and completes an extensive range of Evo, Sport, Turbo and Mini Jet ranges for boats from 38ft to over 131ft (11m-40m).
"We enjoyed a strong year during 2019 and are delighted with our Dieseljet sales which have steadily risen year on year. We are projecting a further increase in Dieseljet sales for 2020 and are firmly focused on our product development plan, continuing to grow our dealer support network and continuing to keep apace of the jet tender market," sales director Mathew Hornsby explained.
Though the firm says it detected a slight flattening of growth recently in the large production motoryacht sector, demand for larger semi- and custom-build projects with longer build times continues, giving the firm some confidence in decent forward-looking sales.
Turnover was up a healthy 8% for 2019, according to John Hornsby, off the production of 960-plus boats, around 100 of which were Dieseljets. Williams' most recently filed accounts reveal a turnover of £22.7m for the year ended December 31, 2018, up 20% on the £18.9m in sales generated FY2017. Operating profits for the same period saw a 29.4% jump to £2.2m.
Taking pride of place on the manufacturer's stand at the Düsseldorf show was the new EvoJet 70, Williams' most luxurious model to-date, which takes the firm significantly into the 40m-50m superyacht tender category for the first time. The boat was launched at Monaco last year and is built on a semi-production line basis. It's the first boat in what will become a range aimed at the top end of the market. John Hornsby confirmed that styling details on the EvoJet will be worked back through the rest of its wider range as it's updated.
John and Matthew Hornsby remain quietly confident about market prospects, however are conscious of headwinds, not least Brexit and the resulting general election that slowed the market down a little at the end of last year in the UK. "These are changing times," John told IBI. "It will push clients to the top brands, the best brands; the ones that innovate and invest in product development will ride any uncertainty out."
He added that Williams was also enjoying success at the small end of its portfolio too – its MiniJet 280, launched in 2017, is proving popular among owners of boats from 38ft and is getting significant traction from the sailing yacht fraternity.
Electrification is on the radar he also confirmed, saying that the firm was watching developments closely, though he admitted as of yet the battery technology wasn't quite there to make electric propulsion viable for Williams. He added that he saw an opportunity opening up in the market. "It will be exciting to see how technology moves forward to meet the void. It's being driven by expectation from customers and legislation. We have the prototypes and concepts, but when do you feed them into production? That's the key. We already have a three-year stack of projects that already have customers waiting."