BSE Cairns Slipway expands capacity for handling yachts and other craft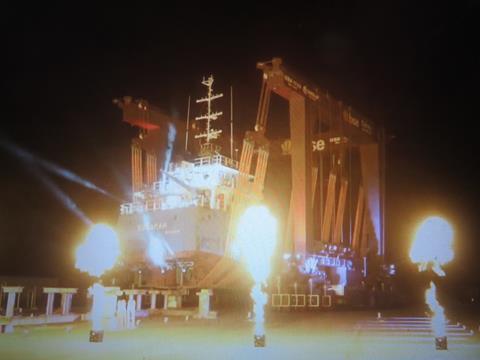 What is said to be the world's largest marine travel lift, the 1,120-tonne capacity named 'Bessy', was officially launched into service earlier this month at the BSE Maritime Solutions-Cairns Slipway shipyard in Cairns, Australia. The launch combined a dramatic mix of lights, fireworks and music.
The new Cimolai Technology lift represents a multimillion-dollar investment for the yard to expand its capacity for handling superyachts, commercial vessels and naval craft. Some A$8m of the cost was accounted for by a government grant which was offered to the three main shipyards in Cairns as part of a pre-election commitment to allow them to develop their facilities.
To install the lift, BSE Cairns Slipway restricted its 60m dry dock into the travel lift dock. This will allow the yard to increase the size of vessels it can handle and haul out up to 70m (230ft) or more. The lift can also cope with multihulls as it has a width of 22m (72ft).
BSE Maritime Solutions describe the lift as a 'game changer' in its operations and it allows the yard to lift vessels straight out of the water for transfer to hard stands or maintenance halls and offers greater flexibility and improved scheduling, capacity and efficiencies for cruising yacht clients.
The new travel lift is the first of three such units of 1,000 tones or more capacity that are planned by shipyards in Queensland. The Yard, based in Brisbane, is currently considering investing in a travel lift of as much as 1,280 tonnes capacity. Additionally, the Gold Coast City Marina & Shipyard in Coomera is looking at a lift of at least 1,000 tonnes as part of a major expansion programme.
The installation of the lift at BSE is also the first move in major plans to expand marine activities in Cairns. The main channel is being dredged to allow larger ships, such as cruise liners, to be berthed and other projects including a 3,000-tonne capacity common-user synchrolift have been proposed. Once the dredging is complete, vessels up to 130m (427ft) will be able to be accommodated by the shipyards.