Manufacturer collaborating with Clearwater Mills LLC to develop a device for collecting and removing plastics and other floating debris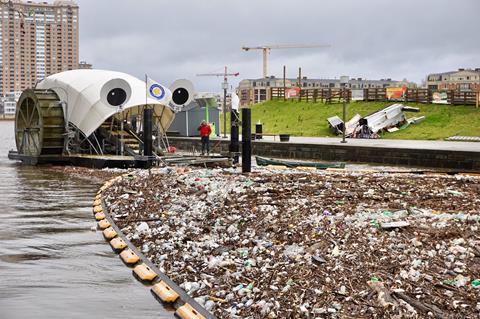 Yamaha's US marine business unit has entered into a partnership with environmental stewardship company Clearwater Mills LLC to design and build a device that can collect and remove plastic waste and other floating debris from coastal stormwater systems.
Loosely based on an existing Clearwater Mills concept known as Mr Trash Wheel, the new device will be a shore-mounted installation that uses a conveyor belt to collect floating debris. A Mr Trash Wheel prototype has been tested in Baltimore Harbor on the US east coast, where it successfully removed more than 1,200 tonnes of floating debris.
Yamaha's next-generation device will provide greater practicality by being installed on shoreline infrastructure in areas exposed to steady current, rather than deployed on a barge as is the case for the Mr Trash Wheel concept. Utilising existing currents eliminates the need for a collection boom or other external apparatus, says Martin Peters, senior manager, marine communications and government relations with Yamaha. "The materials will come straight to the machine, and then there will be devices built into the infrastructure that enclose those materials as they float down the waterway," he says. "These will then be collected by the action of the conveyor."
The proposed location for the device is a spillway that drains stormwater from a large residential and commercial area of Georgia's Glynn County into an adjacent estuary. Water depth over the spillway can vary from several inches to as much as 18ft, depending upon rainfall intensity and duration in the area. Yamaha aims to have a working prototype of its device installed in the waterway by the second quarter of 2020.
Peters notes that the initiative is part of Yamaha's Rightwaters sustainability campaign, a national program focused on water conservation, habitat restoration and tactical projects to reduce the volume of debris in aquatic ecosystems. "Yamaha has engaged in conservation activities for many years, and we've all aware of the issue of plastics in the sea," said Peters. "We're based in Georgia where we have 1,800 employees, and wanted to do something to address the issue of plastics in our own local waterways."
If the device proves successful, additional units could be installed in other areas. Clearwater Mills president John Kellett is optimistic the collaborative design could one day see widespread use, noting that "if we can make this pilot project work, we will have created something we can use to keep debris out of marshlands, coastal waterways and off the beaches all along the Atlantic Coast."