The 30m Heesen-built motoryacht is undergoing a full refit and paint job at ICON Yachts' facilities in Harlingen
The 30m Heesen-built motoryacht Zabava arrived at ICON Yachts' facilities in Harlingen, the Netherlands recently for a complete refit ahead of the Mediterranean cruising season. Originally delivered as Buka in 2000, the yacht previously cruised under the name Pokrov II before being sold to its new owner in May 2018.
Zabava will undergo a full refit and complete paint job at ICON over the next several months and is scheduled to hit the water once again in spring 2019.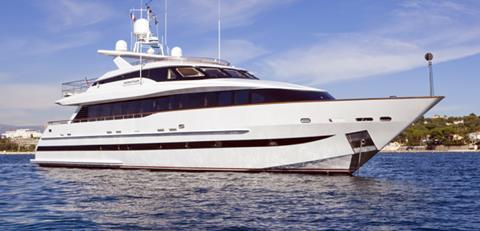 "The owner bought Zabava in spring this year with an initial intention to do a refit in northern Europe to enhance the quality of the boat," says Jelena Vezia of Ocean Independence, which represented the buyer in the sale of Zabava.
"Currently known as one of the leading yards in Holland for refits, ICON Yachts was – almost naturally – our first choice, and we are extremely pleased to start our collaboration in the next few weeks. I am convinced that the owner will be pleased with the final result, which, without any doubt, will be delivered on time and on budget."
Before arriving in Harlingen, Zabava was transported from Imperia in Italy by Starclass Yacht Transport to Rotterdam.
"This is the second refit we will complete on board a Heesen vessel and, with the completion of our new floating dock on the horizon, we look forward to welcoming many more in the future," says ICON CEO Jen Wartena. "We have a number of exciting projects in the yard right now and are ready for a strong 2019."
ICON Yachts' new floating dock will be inaugurated in December 2019. Other refit projects currently at the yard include the 59.5m Ramble on Rose, as well as a 60m Benetti superyacht.
A 68m conversion project, Project Ragnar, is scheduled for delivery in 2019, while construction of the 84m superyacht ICON 280 is well underway.