The DutchCraft 56 will have its world debut at Cannes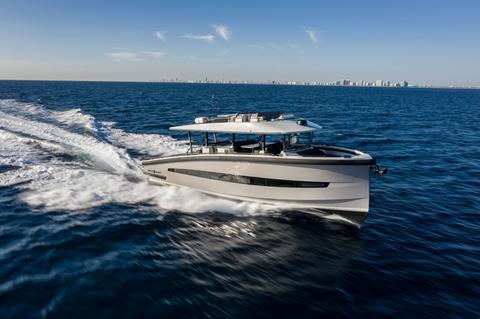 Zeelander Yachts of the Netherlands has launched a new brand called DutchCraft. The first model in the series, the DutchCraft 56, will have its global debut at the Cannes Yachting Festival in September.
The DutchCraft 56 is seen as the ideal vessel for owners seeking ultimate versatility. The 17m (56ft) vessel is said to have a flexibility that allows it to be used as an exploration platform, toy carrier, sports fisher or party boat.
It also offers comfort as a family cruiser and support vessel. The boat offers maximum recreational value combined with minimalist design and stress-free maintenance. The vision for the yacht was born from the experiences of Sietse Koopmans, owner and founder of DutchCraft, when he cruised the world on his 37.8m (127ft) explorer superyacht, Zeepaard.
"During my travels I wondered, I spend money on my yacht; what do I want in return?" said Koopmans, who comes from a long family line of inland shipping business owners. "I want to be able to invite all my friends, take them onboard to explore the world, have maximum recreational value and spend a minimal amount on maintenance. This becomes a pain in the neck after a while.
"Therefore, I was inspired to create the DutchCraft 56, the ultimate all-purpose yacht. One with which you can fish, dive, party, relax, explore and store an incredible amount of toys. We purposefully tried to keep the design minimal and simplistic. The boat is hassle-free and has a low running cost. It is also available in a commercial version with Doen jets and 30,000-hour John Deere engines for all-day commuting or charter."
DutchCraft is a family-run business and the sister brand to Zeelander Yachts, the renowned Netherlands-based builder of sports cruiser yachts with the profiles of classic New York fast commuters. The expertise, craftsmanship and investment from Zeelander's building history naturally feeds into the design and construction of each DutchCraft boat, while giving the younger brand freedom to define itself in new ways.
The DutchCraft 56 has a fresh, simple appeal with clean lines and a robust look that is supported by superior Dutch build quality and seaworthiness. A range of customisable deck features and layouts are available to clients.
When it comes to design and construction of its yachts, it is important to DutchCraft that they can be easily cleaned and maintained, not to mention that they have lower running costs than equivalents on the market. The ultimate aim is to give owners an "easy boating" experience, year-after-year. This can be seen in a range of details, from the composite deck (replacing high-maintenance teak) to extra-large storage lockers in easy-to-reach locations.
The DutchCraft 56 includes a spacious flybridge that features a large dining table, with seating that converts to a large sun pad to the rear. On the lower deck, there is accommodation for up to eight guests, including an en-suite full-beam master cabin. The aft deck space by the waterline lends itself to all manner of uses, from fishing platform to socialising space to stowage place for toys and watercraft.
The DutchCraft 56 can reach top speeds of 40kt while still delivering a comfortable ride for guests, thanks to a high-performance hull design that cuts through the water.