French boatbuilder Beneteau Group confirmed a positive financial outlook for the Boat Division's 2019-2020 financial year, based on 'robust' trends in European and charter markets
France's Beneteau Group has confirmed modest growth of 2.1% for the company's Boat Division during the 2019-2020 financial year, based on 'robust' trends in European and charter markets, which are helping to offsett softening in North America and the rest of the world.
The industry's second largest boatbuilder overall and global leader in production of sailboats and monohulls, said its order book as of January 31, 2020 for deliveries during the current year, is up 2.1% on a reported basis compared with the previous year. "This increase reflects the growth observed on the sailing segment, mitigating the slowdown on the motorboat segment in North America."
According to Beneteau's statement, the Boat Division is expected to show growth of 2% to 4%'s in full-year revenues on a reported basis, "driven by the good level of the European market, the positive development of sales with charter companies, and the healthy position of our multihull business (Lagoon and Excess)."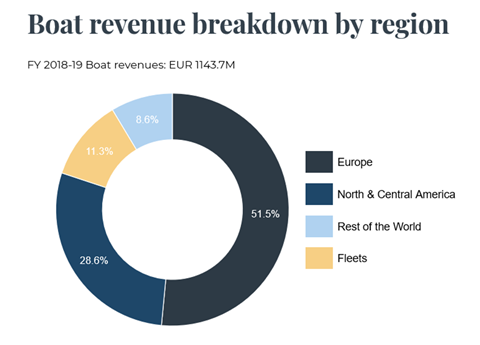 Last year, Beneteau generated boat revenues of €1.14 billion on the production of approximately 9,800 total units sold. The split of revenues for the period was 53.5% motorboats vs. 46.5% sailboats. The forecast growth would bring 2019-20 boat revenues to between €1.16 and €1.19 billion.
The Group said it also expects to see a 2-4% increase in its House Division with a return to growth for leisure home sales in France as well as export markets.
Consolidated Outlook
At Group level, revenue growth is expected to come in at 2% to 4% (based on reported data and at constant exchange rates). Based on total revenues of €1.34 billion for 2018-19, that would represent 6 consecutive years of growth for the builder and put Beneteau's turnover at between €1.36 and €1.39 billion.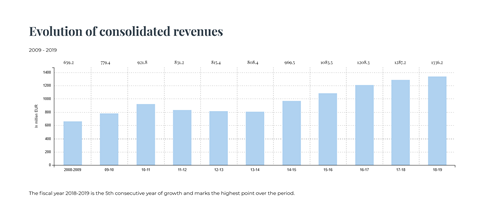 Growth of earnings before interest, tax, depreciation and amortisation (EBITDA) is expected to reach 4% to 6% on a reported basis, benefiting from a stronger level of activity, an improvement in production site efficiency, and more effective control of overhead costs. The company added that fiscal 2018-19 was "marked by unfavourable non-recurring items."
The company also stated that its income from ordinary operations is expected to remain stable on a reported basis, reflecting a continued increase in depreciation charges relating to the recent launches, while free cash flow is expected to increase, linked to an improvement in working capital requirements, while maintaining our investments.