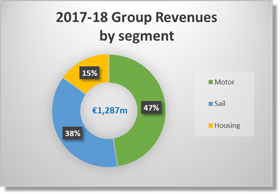 In an annual review of its business, Group Beneteau has reported total revenues of €1.287bn with boat sales up 9% at €1.09bn – income (from ordinary operations) was up by 6.9% in its boating division to €73.1m, evidence that its Transform to Perform strategic plan, introduced in 2017, is gaining significant traction.
The Group's boat division reported a net positive cash position of €161.9m (+47.7%), with Earnings Before Interest, Taxes, Depreciation and Amortization (EBITDA) of €135.1m. The figures reveal the Group invested €81.3m from 2017-2018, with €42.4m of that on product development.
Overall the company said boat sales for the year were dynamic in the multihull sailing, outboard and inboard motorboat segments, offsetting a contraction in the large motoryact segment.
Almost half of its boat group revenues (48.5%) were generated in Europe; 30% in North America; 5% from Asia Pacific; 7.5% from fleets; 7% ROW; and 2% from South America. Beneteau noted that performance in Europe was excellent, while North America saw contrasting trends with strong progress for small boats and large motoryachts saw declining sales. Charter fleet sales continued to be robust, while results across the rest of the world were negatively affected by the lower level of large motoryacht sales.
| Revenue growth by region | % |
| --- | --- |
| Europe | 12.7 |
| North America | 4.4 |
| Asia-Pacific | 27.3 |
| Rest of the World | -38.7 |
| Charter Fleets | 26.8 |
Transform to Perform is Group Beneterau's four-year plan to drive sustainable and profitable growth. Key strategic areas include strengthening the group's managerial structure; further internationalizing and improving its production efficiencies; and the development of products and services.
"The Group has successfully met the challenge of growth, while effectively serving all its customers, from leisure homes (+11%) to boats (+9%). To achieve this, we have had to recruit, train and integrate more than 500 permanent staff, while ramping up production speeds in our facilities and operational agility in our support functions. The 2017-18 season was also a year of external growth, with two acquisitions in Eastern Europe and the launch of the digital platform Band of Boats," Group CEO Hervé Gastinel says in the report.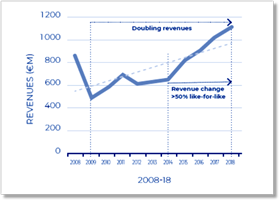 Gastinel also called on the industry to make a concerted effort to reduce its environmental footprint – adding that all its Boat division sites in Vendée were ISO 14001 and ISO 50001 certified.
Highlights of the year included the acquisitions of small, fast, sailboat builder Seascape, and Delphia, whose portfolio includes sailboats and motorcruisers for lake usage, as the group looks to fill in the white spaces in its product portfolio to fulfil its strategy of covering all market segments for sailing, motorboats, monohulls and multihulls from 4m to 30m.
Perhaps the biggest news was the creation of its new EXCESS cat brand, first announced in Cannes last year, with more details provided at Dusseldorf last week. That new range is a response to the segmentation of the catamran market that has doubled in size in a decade.
Other highlights for the year included the launch of Band of Boats – an online platform that is both boat community hub, marketplace for new and used boats from dealers and private sellers, and a portal for boat rental from professional sellers; and the announcement that its 500th employment contract had been signed – the Group had announced at Cannes 2017, its 500 Permanent Contracts Plan – an ambition to attract 500 new employees to the company. For 2018-2019 the group plans to recruit more than 650 staff on permanent contracts, with nearly 490 permanent positions in France and over 160 in other countries.
The Boat Divison of Group Beneteau currently employs 7,216 people (plus an average of 1,015 temporary staff) and has 19 production sites around the world – 14 in France, 2 each in Poland and the US, one in Italy and a commercial office in Hong Kong.
Outlook
Based on impressions from the first boat shows of the season, Beneteau described the atmosphere in Europe as positive and expects to confirm the same trend in the US over the coming weeks. The company said it will continue its investment in innovation and new product launches, noting that 44% of the product range has been renewed in the past three years (88 models out of 200). Another 32 new model launches are planned for the 2018-19 season.
The builder is also on track to double its mult-hull production capacity, with 50% expansion already completed at the midway point between 2016 and 2020.
Other targets looking ahead to 2020:
• Revenues of around €1.5 billion (€1,287.2 million recorded in FY 2017-18)
• Income from ordinary operations of between 8.5% and 9% at constant exchange rates, around €130 million (6.8% and €87.6 million for 2017-18)
• Aggregate cash generation of €200 to 250 million (€161.9 million of net cash at year-end 2017-18)