Strong performance of marine division contributed toward solid third quarter for Canadian recreational equipment manufacturer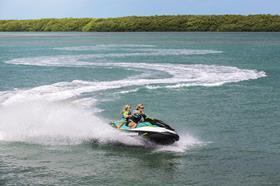 Quebec-based BRP reported revenues of C$1,394.2m and net income of C$90.2m for its third quarter of 2018, marking continued strong growth for the manufacturer of Sea-Doo personal watercraft and Evinrude outboard engines.
The company's revenues for the quarter ended October 31, 2018 represent a year-over-year gain of $167.7m or 13.7% for the period, producing a $20.2m jump in net income. Gross profit increased by $36.9m for the quarter, representing YOY growth of 11.5% while diluted earnings-per-share were reported at $0.92, representing an increase of $0.25 per share.
Earnings were split among year-round products, powersports PAC, OEM engines and seasonal products, with marine accounting for approximately 10% of total revenues. For the year to date, revenues from the marine division increased by $29.5m, or 25.4%, to $145.8m for the three-month period ended October 31, 2018 compared with $116.3m for the corresponding period in 2017.
The increase was attributed to the acquisition of the Alumacraft and Triton boat business, and partially offset by a lower volume of outboard engines sold. North American outboard engine retail sales decreased on a percentage basis in the low-teen range compared with the three-month period ended October 31, 2017.
"We posted another record quarter with sustained demand for our products," said BRP president and CEO, José Boisjoli. "Consumer demand for BRP's powersports line-up was also strong this quarter with retail up by more than 25% for both side-by-side vehicles and personal watercraft in North America. This performance is a testament to our relentless focus on executing on our strategic priorities and on bringing the most innovative products to market."