Despite a slight decline in 2019 sales, the industry's largest company reports strong earnings with solid margin growth, delivering shareholders a tenth consecutive year of EPS gains. CEO David Foulkes tells analysts this afternoon why the company is 'built to win'
Annual Highlights
$4.1 billion adjusted net sales for 2019 (+0.9%)

Engine segment: $3.03 billion (+0.9%)
Boat segment: $1.33 billion (-6.2%)

Early season market challenges; marine retail improved in 2nd half
2019 operating margin: 12.9%
$370.9 billion adjusted net earnings for 2019 (+1.8%)
$4.33 dilute, adjusted EPS (+4.8%)
Reduction of boat inventory pipeline (-7% to 23,700 units)
2019 Capital Strategy

$400 million in shares repurchased
$300 million debt retired
$350 million in R&D and capital expenditures
Freedom Boat Club purchase funded
2020 Outlook
6-8% revenue growth
Global retail unit demand: flat to slightly up
Higher wholesale shipments
$5.10-$5.40 diluted EPS guidance for 2020
US based Brunswick Corporation (BC) reported fourth-quarter and annual financial results for 2019 that show a slight decline in sales but "strong earnings performance with solid margin growth," according to the company's report released today.
For the whole of 2019, Brunswick unadjusted sales were US$4.11 billion, down from the US$4.12 billion reported in 2018. US $49.4 million of sales related to Sport Yacht and Yachts, were excluded from adjusted reporting. Diluted EPS in 2019 was $0.36 on a GAAP basis and $4.33 on an adjusted basis, a 4.8% increase from 2018 earnings.
For the quarter, Brunswick reported consolidated net sales of US$917.6 million, down from US$961.1 million in 2018. Last year's sales figure includes US$5.4 million in yacht sales for boat models no longer offered by the company. Diluted EPS for the quarter was $0.92 on a GAAP basis and $0.82 on an as adjusted basis. Net sales on an adjusted basis to account for non-reoccuring items, show a slight lift in year-over-year sales, due primarily to the engine business:
Brunswick Net Sales* (2018-2019)
Segment ($m)
Q4 '19
Q4 '18
% change
FY '19
FY'18
% change
* adjusted to exclude discontinued SeaRay operations
Engine
665.8
669.5
-0.6%
3,073.5
2,993.6
2.7%
Boat
316.8
371.9
-14.8%
1,334.5
1,421.9
-6.1%
Marine eliminations
-65
-85.7
-298.9
-344.0
Total
917.6
1041.4
-11.9%
4,109.1
4,071.5
0.9%
"Our 2019 performance demonstrated the strength and resilience of our marine-focused portfolio. We expanded gross and operating margins and delivered a tenth consecutive year of adjusted EPS growth, despite a weaker than anticipated marine market in the first-half of the year," said Brunswick Chief Executive Officer David Foulkes on a webcast with analysts this afternoon.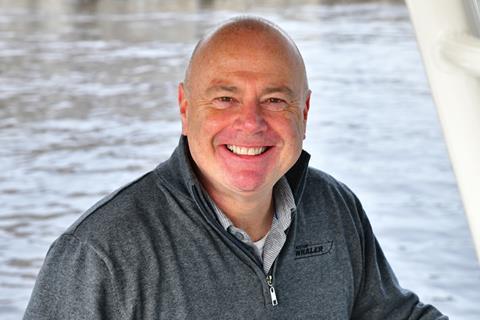 Highlights from today's report include a decrease in the quarter for the Marine Engine segment, "as continued strong demand for higher horsepower outboard engine categories and solid growth at Power Products was offset by forecasted reductions in outboard engines 150 horsepower and below, as well as lower sales of sterndrive engines."
Brunswick's boat segment sales were down as well in the period, which the Company attributed to "continued planned reductions in wholesale unit shipments to right-size the pipeline, particularly in aluminum and saltwater fish categories."
For the year overall, boat segment sales were down about 6% for the year, but at $1.33 billion, Brunswick is still the largest boatbuilder in the world, just ahead of Beneteau which reported boat sales for its 2019 fiscal year of €1.14 billion (or approximately $1.26 billion).
Freedom Boat Club (FBC) – acquired last spring – showed a nearly 2% increase is sales during Q4. There are now 210 Freedom Boat locations and Foulkes said the company is anticipating strong sales into the franchisee base in 2020.
By region, the company reported the following results:
Brunswick revenue growth by region

Region

% of total sales

% growth*
* Constant currency

U.S.

69%

0%

Europe

13%

10%

Canada

7%

0%

Asia-Pacific

7%

10%

Rest-of-World

4%

8%
Total International


31%

7%
Total
100%
2.1%
In terms of segments, Brunswick will begin reporting on its business segments in more detail, breaking out the Parts & Accessories business separately from the Engine Segment.
New reporting segments and approximate % sales split by category

| Reporting Segments | FY 2019 | 2020 targets |
| --- | --- | --- |
| Propulsion | $1.7 billion | 6-8% sales growth |
| - Outboard engines | 68% | |
| - Sterndrive/Inboard | 10% | |
| - Engine controls & rigging | 12% | |
| Parts & Accessories | $1.4 billion | 4-6% sales growth |
| - Mercury parts & consumables | 31% | |
| - Advanced Systems group | 31% | |
| - Distribution | 38% | |
| Boat Segment | $1.3 billion | 6-8% sales growth |
| - Rec Fiberglass | 39% | |
| - Aluminum Fish | 34% | |
| - Saltwater Fish | 24% | |
| - Business Acceleration | 3% | |
| Total Sales | $4.1 billion | 6-8% sales growth |
Foulkes closed the call on a highly enthusiastic note, "Were very pleased with 2019 not only because of our financial results but also because of what a transformational year it's been. I'm tremendously excited about our prospects for 2020," he added. "We are built to win. I can not wait to share our 2020-2022 three-year strategy with you in Miami."