Swedish equipment manufacturer Dometic Group reported Q1 results, noting a severe impact on its business beginning in mid-March and projecting that April would be much worse
Dometic President and CEO Juan Vargues got straight to the point on the company's webcast discussing Q1 results with analysts. "January and February developed very much according to our expectations. Even though we had already the Corona breakout in February in Asia, we did a pretty good job in mitigating the negative effects on the supply chain coming from China. But then during the first week in March, we had the breakout in Italy that expanded to most European markets during the month as well as to the US, so March became an extremely tough month for us." Vargues added later in the call, "We estimate that April is going to be tougher, much tougher than March," but pointed to more positive signals for May. (See IBI's new interview with Juan Vargues for related coverage on the company's post-Covid strategy.)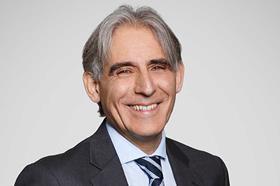 "Our estimation in terms of the top line is that the corona breakout cost SEK 400 million (approx. US$ 40 million) in revenue and SEK 120 million in EBIT during the quarter." Vargues commented that March was normally a very strong month of performance for the company especially in the aftermarket sector, with customers gearing up for the Easter holidays and upcoming summer months.
"We ended up for the quarter at minus 10% in total growth, with a negative impact of 14% [in constant currency]. If you exclude, the negative effect of the corona breakout, we would be ending up at minus 5% – compared with Q2, Q3 and Q4 in 2019 that would have been an improvement."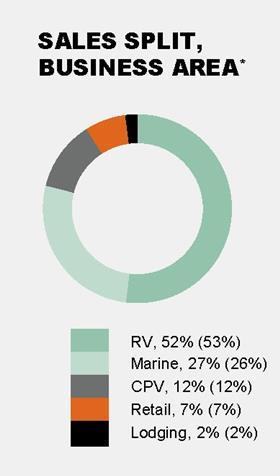 Indeed, Vargues said the OEM market in recreational vehicles in the US started to move into positive territory at the end of 2019, with a strong January and a positive February for the industry. He noted EMEA also looked more positive than expected at the beginning of the year. "But then, again, March became very, very weak, both from an OEM perspective as well as from an aftermarket perspective."
Despite the unavoidable impacts of the Coronavirus pandemic, Vargues outlined a number of notable positives for the business which began a majoring restructuring effort to reduce complexity and the company's sprawling manufacturing footprint. The effort which began in the last quarter of 2019 continued into Q1 and has already affected 500 employees and 14 locations.
One of the highlights Vargues emphasised in Q4 and again in Q1 is Dometic's improvement on the innovation front. The company's innovation index is now at 18% (the portion of sales from products launched in the last 3 years), up from 14% last quarter and aiming for 25% by 2021. "We have moved from running 172 different projects – smaller projects – into a total today of 77 projects having a much, much higher impact than the ones that we were doing before. He also noted significant progress in the shift of multiple manufacturing lines from China to a new plant in Mexico to offset the impact of tariffs. "We are now running our air conditioning lines at exactly the same pace with the same efficiency levels we were doing in China after 20 years."
Vargues also stated that the company had proactively negotiated an amended financing agreement with Dometic's bank group. "According to our current assessment, this amended financing agreement creates the necessary flexibility and covenant headroom for the coming four quarters. We have full focus on ensuring continued positive cash flow and maintaining a solid financial position."
He also reiterated his belief that Dometic was in the right business for the times, with the outdoors remaining a high priority among consumers, and a re-evaluation of holidays in the near-term that would see more people emphasizing vacations close to home.
In summarising the situation, Vargues said, "again, a very, very tough quarter. We have another very tough quarter in front of us. At the same time, I am more optimistic today than two weeks ago."