Swedish equipment maker Dometic has been downsizing capacity, headcount and SKU's in a drive to improve efficiency and respond to soft demand in key markets
Dometic announced fourth quarter and year-end results today in a webcast from the company's headquarters in Sweden, reporting annual net sales growth of 1% to SEK 18.50 billion (€1.74 bn) for the financial year ending December 31, 2019. Aftermarket sales for the year showed 11% growth.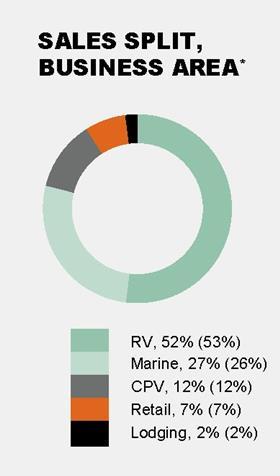 Profit (after tax) for the year was SEK 1.33 billion (€125m) down -16% from 2018, reflecting lower volumes and the full impact of 25% tariffs, offset by a year of efficiency improvements, capacity reduction and pricing improvements.
Fourth quarter results were down significantly with a 4% decline in net sales to SEK 3.92 billion, including a 9% drop in organic growth. After tax profit for the year was SEK 47m, down a sharp -65% from SEK 136m in the same period in the previous year.
In his opening comments, Dometic President and CEO Juan Vargues stated, "Despite a challenging trading environment in areas of our business and US trade tariffs, we have managed to deliver 1% net sales growth for the full year. We also demonstrated a strong ability to react immediately to changing market conditions by taking actions leading to continued high profitability and the best operating cash flow in the history of Dometic."
In discussing sales performance which have seen negative organic growth for the past five quarters, Vargues said the steep decline in the OEM recreational vehicle (RV) market was the primary driver – starting in the US, but in the past year was also reflected in EMEA where organic growth in RV OEM sales also turned negative, although not to the same degree.
Vargues also explained that the company has not been aggressively passing the tariff increases on to its customers, in order to protect the company's installed base.
Overall the marine sector was the strongest performer for Dometic in 2019, with sales up 6% (0% in constant currency) to SEK 4.96 billion (€460 million). Vargues noted that the company's marine sales had started strongly in the first half of the year, but slowed in Q3 and were weaker still in Q4. "We expected the second half of the year to look better but that didn't show up."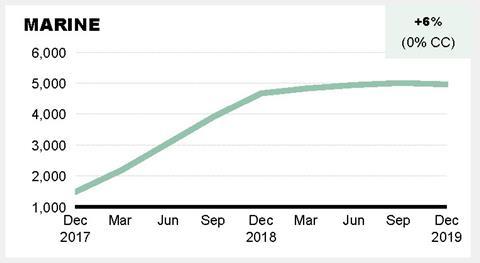 Despite the decline in boat sales in the fourth quarter, Vargues believes the outlook for 2020 is still pretty optimistic, explaining that the OEM inventory correction has already taken place in America and that Dometic's customers remained positive about the current year.
Dometic's Marine Sales by Region (SEK millions)

| Region | Q4 '19 | Q4 '18 | % change | FY '19 | FY'18 | % change |
| --- | --- | --- | --- | --- | --- | --- |
| America | 896 | 937 | -4.4% | 3,994 | 3,757 | 6.3% |
| EMEA | 186 | 199 | -6.5% | 845 | 805 | 5.0% |
| APAC | 29 | 26 | 11.5% | 123 | 112 | 9.8% |
| Total Marine | 1,111 | 1,162 | -4.4% | 4,962 | 4,674 | 6.2% |
| Total Company | 3,919 | 4,070 | -3.7% | 18,503 | 18,294 | 1.1% |
Beyond the tough market conditions, Vargues characterised the year as transformative – one in which the company undertook strategic initatives to reduce SKU complexity, shrink the Group's manufacturing footprint, alleviate the impact of tariffs and improve innovation.
"We achieved our ambitious targets for the year," he added summarising a number of accomplishments across the company's global business:
32% reduction in SKUs
10% reduction in space reduction
an increase in the company's innovation index to 16% from 12% (the portion of sales from products launched in the last 3 years)
Shifted 2 more production lines to a new facility in Mexico from China (to address the impact of tariffs)
Consolidated 2 manufacturing sites in the Americas and closed 2 sites in EMEA (10 sites and 200 employees were affected in Q4)
In January, the company initiated closure of another facility in Indiana affecting 200 more employees
Towards the end of his comments, Vargues agreed with analyst comments that the cyclicality of the OEM sector in RVs and marine had hurt sales and reminded listeners that the company has an active M&A strategy and a strong balance sheet to allow it to pursue more diversity with further acquisitions.
Also asked to comment on the recent acquisition by Lippert Components of Polyplast in Europe, Vargues said that Lippert did not represent direct competition for Dometic. "They are more focused on mechanical products and we have appliances. The only area where we are competing is awnings." But he acknowledged that there were several other opportunities in the pipeline which the company was actively exploring.