The luxury yacht builder said seven new orders have boosted the Group's order book to S$52.8m in the first quarter
Grand Banks has reported quarterly revenues of S$26.0m – 20.5% higher than the same period a year ago – and the company's highest in 10 years. Profitability showed an even stronger improvement, with net profits after tax of S$1.68m, a 46.7% jump from S$1.15m in the first quarter last year.
Grand Banks Yachts Q1 Results
30 Sept '20

(S$ 000)

1Q FY2020

1Q FY2019

Change (%)

Revenue

26,047

21,610

20.5

Gross Profit

6,164

5,572

10.6

Gross Profit Margin (%)

23.7

25.8

(8.1)

Total Operating Expenses

(3,864)

(3,915)

(1.3)

Net Profit After Tax

1,681

1,146

46.7
The Singapore Exchange-listed builder of the Grand Banks and Palm Beach brands also announced a net order book of S$52.8-[-0m on the back of seven new orders, reflecting 'strong demand for its luxury boat models'.
Operating expenses were flat but the company's gross profit margin slipped -8.1% to 23.7%, attributed to lower gross margin on a trade-in sale.
The Group noted that significant improvements in both revenues and profits over the past three years corresponds to the successful restructuring of operations undertaken over the same period.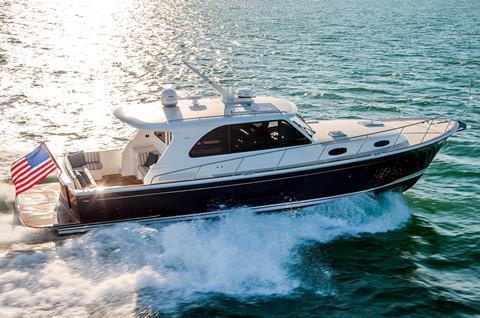 The Group is set to debut the Palm Beach 70, its largest yacht model to date, at the Fort Lauderdale International Boat Show in a week's time. This is the first of a line of bigger models Grand Banks said it plans to debut within the year, namely the Palm Beach GT60 and the Grand Banks 54.
"We are reaping the benefits of our attractive product programme and increased marketing efforts," says Heine Askaer-Jensen, chairman of Grand Banks. "As the year progresses, we will be pursuing a concerted marketing initiative, as we start to consolidate our sales and marketing operations in our service facility in Stuart, Florida, US."
CEO Mark Richards also suggested the company was benefitting from the market trend towards bigger boats and said the Group's latest boat models are attracting strong demand.